A continuation of our third installment of epic motorcycle locations. We've previously documented such iconic north-eastern bike garages as those of Mike Schantz and Stacy Clark.
If you are a serious old motorcycle enthusiast and you live in the northeastern part of the greatest country on earth, you likely have heard of "Yankee Bob" Fornwalt. Bob is a long-time resident of Lancaster Country, Pennsylvania, and is unique among motorcycle collectors. Bob's exclusivity comes from the fact that he collects one motorcycle brand, only (well, two actually…but we'll get to that soon): the undeniably rare and probably under-appreciated Yankee brand. Why does this man admire a largely forgotten motorcycle so much? I hope the ensuing words will answer that question. First, some background.
The Yankee was the idea of the brilliant, multi-talented businessman/inventor/motorcyclist John Taylor.[1] Taylor, originally a machine-tool salesman, got the motorcycle bug and was selling (and racing) Bultacos in the 1960s. By 1963 he had risen to the level of being the importer/distributor for Bultaco motorcycles in the United States. Taylor admired the performance-bred, lightweight Spanish machines being produced by Bultaco, Montesa, and OSSA, but also envisioned a larger-capacity machine with the same fine handling and components. Taylor furthermore imagined a motorcycle that would be American-made (and designed), and could be competitive off-road—by virtue of its large power-plant—and still provide its owner with reliable on-road transport.
Taylor, equipped with this idea of what his machine would be, first approached Bultaco to see if they would source the 500cc twin two-stroke he wanted. While apparently impressed with Taylor's imagination, Bultaco declined to take on the project. Taylor didn't give up, and next went to OSSA. OSSA had heard of the brash American, and—while quite reasonably having doubts about the profitability of making such an engine—agreed to the proposition, on one condition. That was that Taylor would come over to OSSA and be their national US distributor. Taylor agreed, and Spanish engineers set to work adapting the existing OSSA 250cc single engine to Taylor's specifications for the twin 500cc concept.
The first prototype engine reached American soil in 1968. (However, it be 1971 when the first production engines arrived, ready to be fitted into Taylor's motorcycles.) These twins mated two standard OSSA "Pioneer" top ends to a crankshaft set up for 360 degree firing (both pistons firing together), but which also could be configured for a smoother 180 degree combustion cycle (firing alternately), for street use, if desired. To hold this engine, Taylor created a unique rolling chassis. The engine was cradled by a thin-wall, large diameter, aircraft-grade chrome-moly frame, designed by Dick Mann. (The frame tubing was literally aircraft-grade, supplied from Piper Aircraft Company stock.) The chassis was suspended by hefty 42mm Telesco forks and Telesco shocks, holding a stock OSSA 21-inch front wheel and an 18-inch rear wheel, shod with Full Bore trials or knobbies.[2] The package was finished with American-made fiberglass bodywork, trimmed with Amal levers and Magura controls, and featured a Kelsey-Hayes disc brake assembly on the rear (the same system used on late-1970s Harley-Davidsons). Out-the-door, a 1972 Yankee 500Z retailed for $1595, before taxes.[3]
The Yankee motorcycle did not survive, for various reasons. First, even with Taylor's endeavor being owned and assisted by the Bangor-Punta conglomerate, there was only limited capital available for a start-up—and any new motorcycle will require several years to establish distribution networks, create a good reputation (with the bugs discovered and worked out), and instill brand loyalty. The second challenge may have been the oddity of the motorcycle itself; besides the unusual engine, the Yankee was heavy for a dirt bike (350 pounds, wet), and yet was very "dirt themed" for it to be accepted as a street bike. Yankee's two-year funding support by Bangor-Punta was simply not enough time to endear such a groundbreaking machine to the public—especially arriving as it did in the "motorcycle boom" of the early 1970s, when so many great motorcycles were competing against Yankee Motors. John Taylor and Company ceased production in 1973. Only 764 Yankees were made. And Bob Fornwalt has 40 of them. Or, to put it differently, about 7% of total production. (He's actually had more than 100 pass thru his hands!)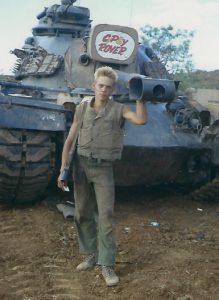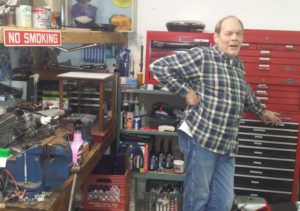 After Corporal Robert Fornwalt, USMC returned from Viet Nam in 1969, after a tour as an M-48 tanker[4], he embraced two primary goals. The first was to become an engineer, to which end he enrolled in Penn State University. The second (or was it really the first?) was to buy himself a new motorcycle. He'd of course taken note of the excellent machines coming from Europe—including the Spanish bikes—and had heard of the unusual Yankee machine, created by upstart Americans not that far away, in New England. A local dealer, Kaufman's Suzuki, handled Yankee, and Bob finally brought home his brand-new 500Z in the spring of 1974. That was Yankee Number One for Bob, and he hasn't stopped.
One side note to Bob's fixation with Yankee has been his love of Suzuki trials bikes, particularly the 1970s RL-250 line. He owns several RLs, as well as Beamish-framed variants.[5] Currently under work is a 1977 Beamish/Suzuki 325. (In truth, we must add that Bob is understandably an OSSA fan, and is restoring a 1976 OSSA Super Pioneer for off-road riding. He also owns several Japanese street bikes, but says he is 'down-sizing.')
This March—after over a year of threats to visit—former pro-motocrosser Brian "BT" Thompson, former Ducati roadracer and Husky dealer/collector Scott Fetterolf, and some guy named Dave visited Yankee Bob's Lancaster County home. Following are pictures of our visit.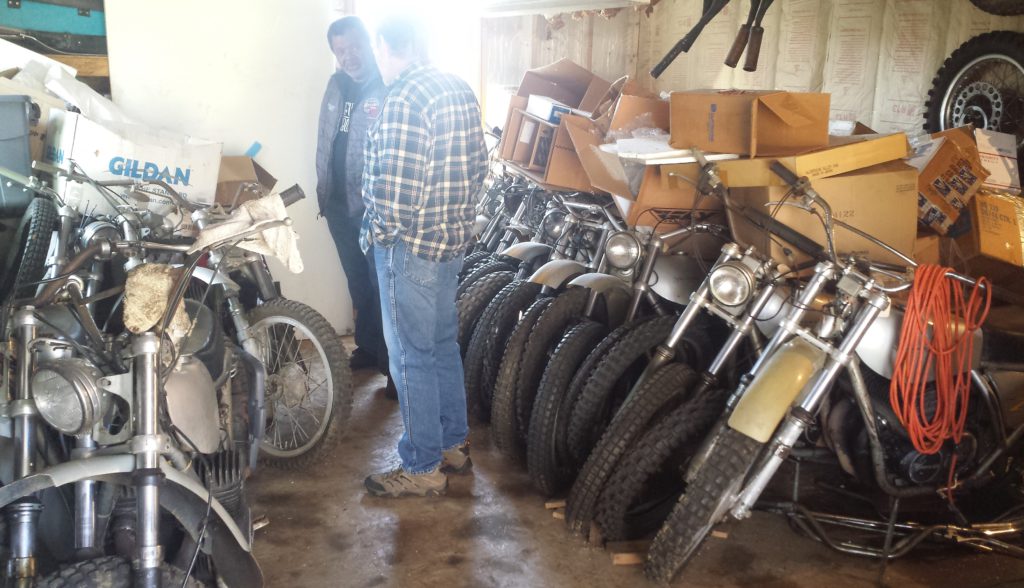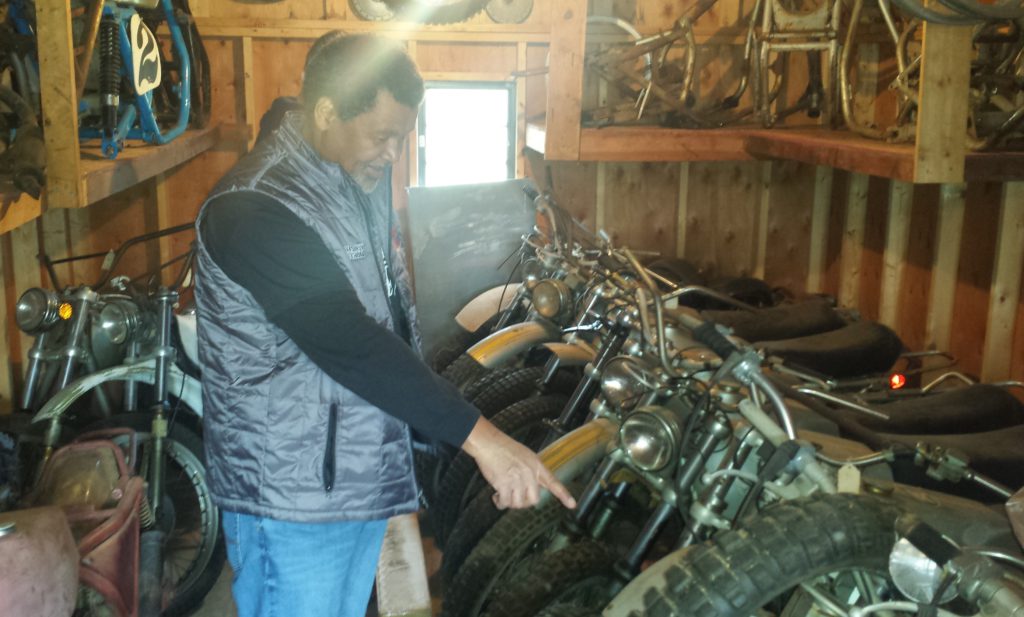 Yankees, Yankees…and more Yankees! Bob has, it is believed, the largest single collection of the make (another West Coast collector has about 17 machines, making that probably the second biggest Yankee collection). After purchasing his original (new) Yankee in 1974, Bob simply bought every reasonably-priced used model that he encountered. Over the years, prices for these ranged from $10 to $2000. (Note that a clean, running Yankee today will run you about $4,500 and up.)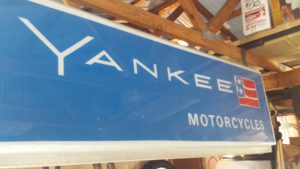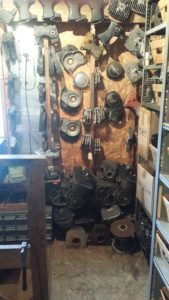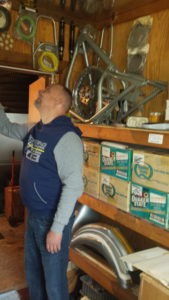 Parts and more parts. In fact, most of the Yankee parts existing on the Eastern seaboard! Bob bought up both isolated parts and inventories, over the years. To help fund his collecting, he sold excess parts on-line. On the left are used parts. On right, Scott peruses the "NOS (New, old stock) room," where Bob has the contents organized and labeled. In this room Bob also keeps clean worktable area and the shipping materials necessary for sending Yankee items around the world.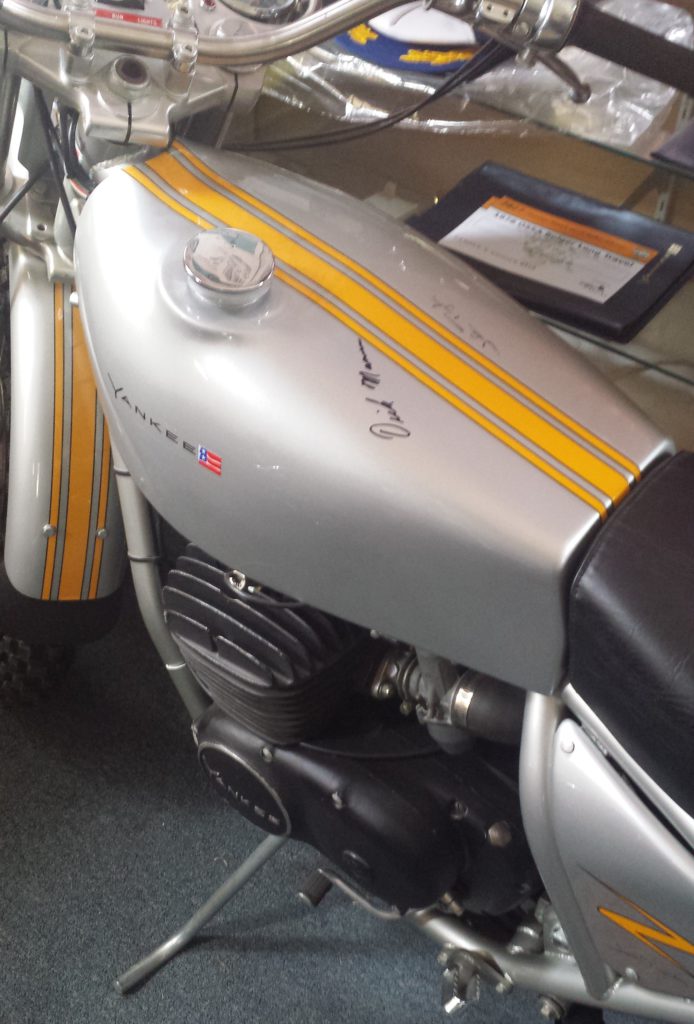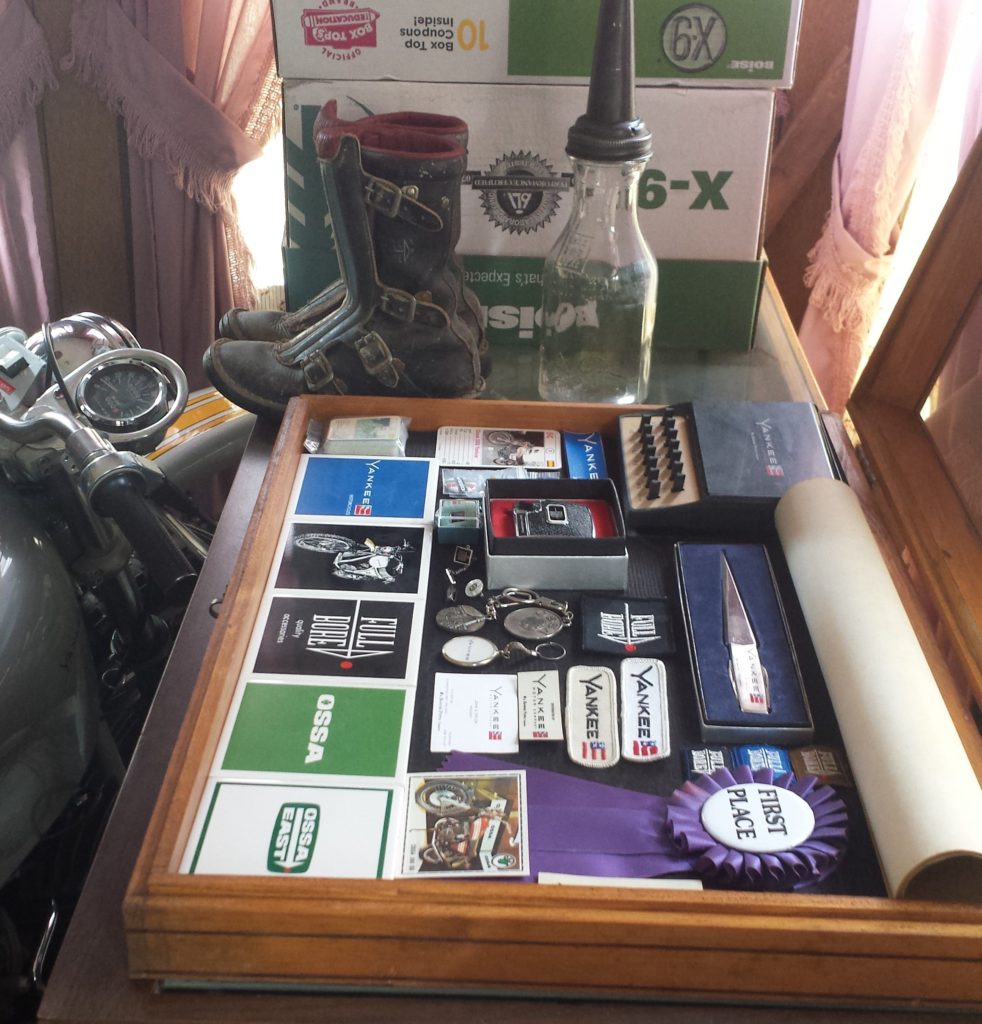 The display case contains a collection of Yankee and Full Bore dealer items, including tie pins, convention materials, patches, paperweights, a letter opener, and much more. The tiny Full Bore boots were actually made for a child, and were purchased from the Gary Nixon estate. Nixon had displayed them.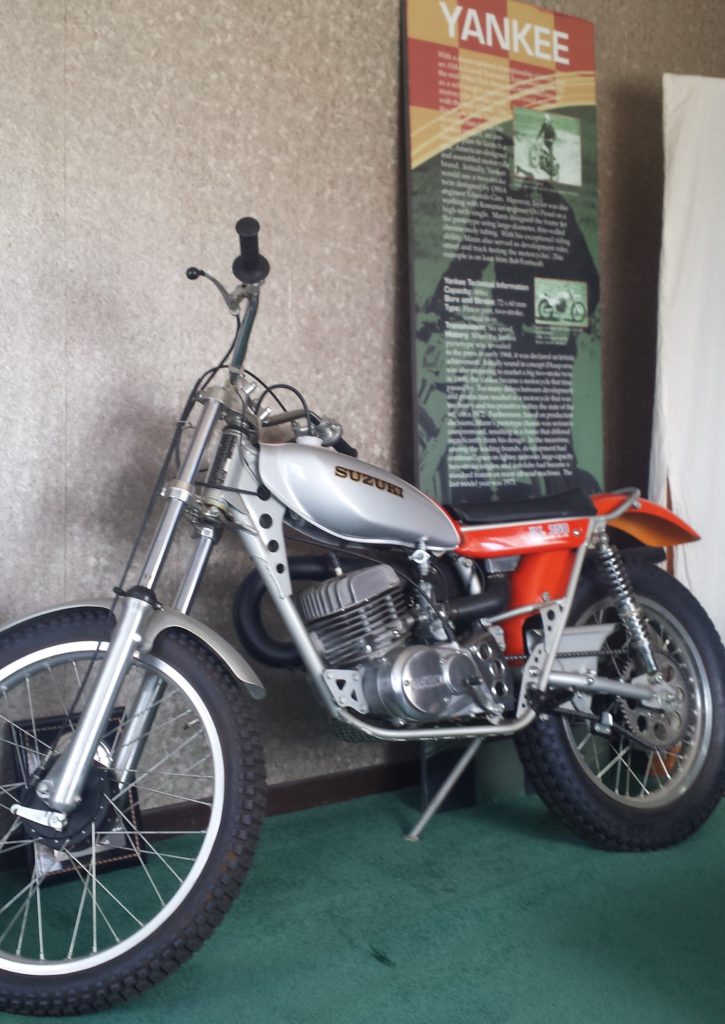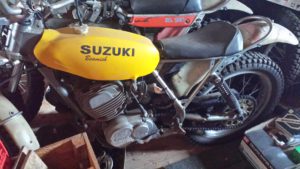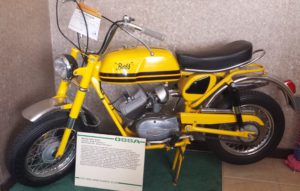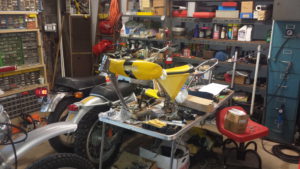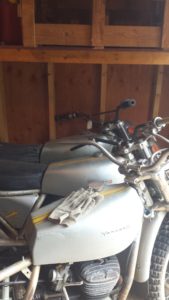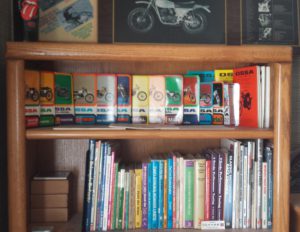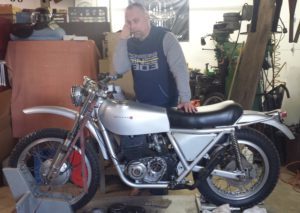 We hope you've enjoyed sharing our tour of "Yankee" Bob Fornwalt's collection. Without his dedication, the world would undoubtedly be missing a fascinating aspect of American motor history.
If you're interested in taking over from Bob in his goal of preserving Yankee, or would like to discuss acquiring your own Yankee project bike, please email Bob at yankeebob@dejazzd.com.