A-plus Truck and Fleet is a business specializing in large truck maintenance, along with automotive work, in Lewisberry Pennsylvania. Owner Mike Schantz is a dirt rider from his youth, who can't wait to push the last truck of the day out of the garage and start working on what he really loves. It's at that time—late and after dark—that A-plus transforms into its other self: Old Bike Garage.
Along with brother-in-law Norman Marriott, the two maintain a substantive personal fleet of vintage dirt bikes. Between Norm's eclectic and never-ending old bike acquisitions and Mikes engineering mega-skills, the garage keeps a wide array of classic machinery running and ready for the weekend. While a few 'vintage' (pre-1975) bikes are visible, one can see that the interests of these two enthusiasts tends towards late 1970s and early 1980s long-travel motorcycles. And, especially open class bikes. Honda 480s are a favorite of the two; both Norm and Mike own two CR480s each. KTM 500s, a Husky 390, and an array of big-bore Suzukis and Yamahas are also part of the collection. While Mike is an open-bike-only rider, Norm has several collections of "families" of bikes, from small- to large-capacity (his OSSAs, Kawasakis and Suzukis, kept in his own garages, span entire ranges of the machines of each manufacturer). Along with the small array of street bikes that have crept into their garages, the in-laws have a joint collection of over 70 motorcycles.
To maintain a fleet like this, you need either 1)big bucks, or 2)amazing technical abilities and dedication. Mike and Norm opt for the latter approach. A repair that is expensive (elsewhere), they do themselves. Parts that cannot be economically fixed or sourced, they make in their shop. From repairing the usual problem components (engines, suspension, frames) to fabricating parts that don't exist, A-plus never concedes that "it can't be done."
Enabling the boys to succeed where many of us would fail, it seems to me, is also the presence of exceptional machine tools (which you may expect in a professional garage). But, there is also immense creativity floating in the air of this garage. Mike—a trained machinist who is also fascinated by engineering and physics—does not accept "we can't do that" endings. Difficult problems bring them to novel end-state solutions. Broken bolt head? Mike's figured out how to weld a stainless steel rod to the remaining bolt to help extract it. Don't have that 'special tool'? The boys machine it. Unusual bolt thread? Mike figured out how to program the vintage lathe to cut thread. Unavailable parts for your antique mono-shock? The boys fabricate them. Need a cylinder bored and don't have (yet) a boring stand? Mike has discovered that the right adjustable cylinder hone on a drill press can work just fine. In short, Mike and Norm seem to enjoy the most difficult projects more than routine work.
Let's take a tour of the facility…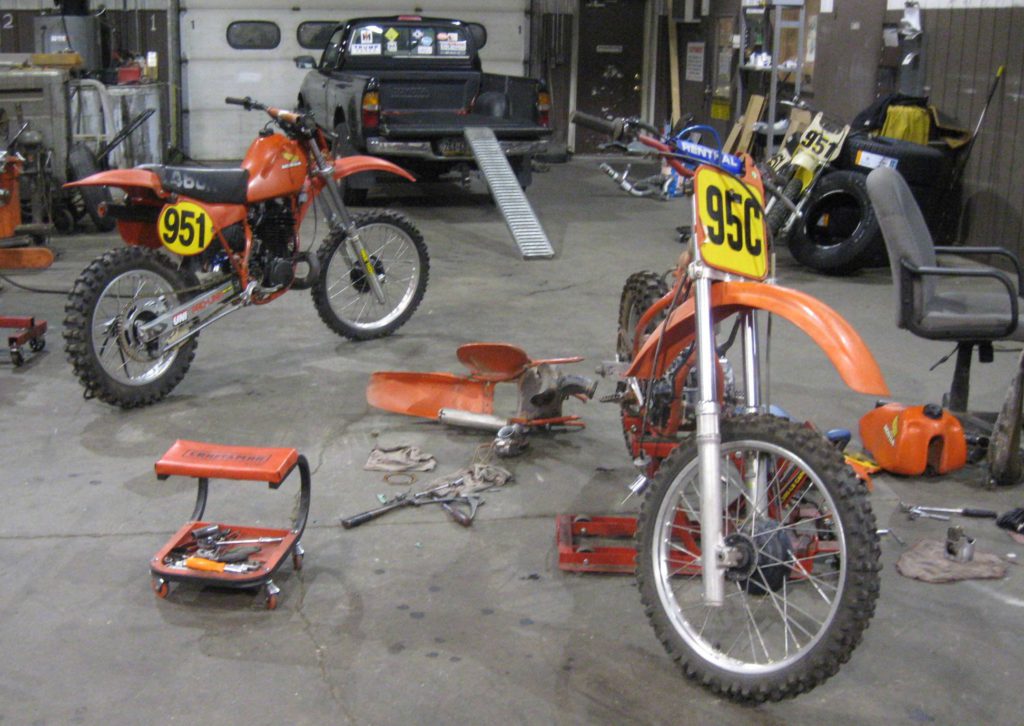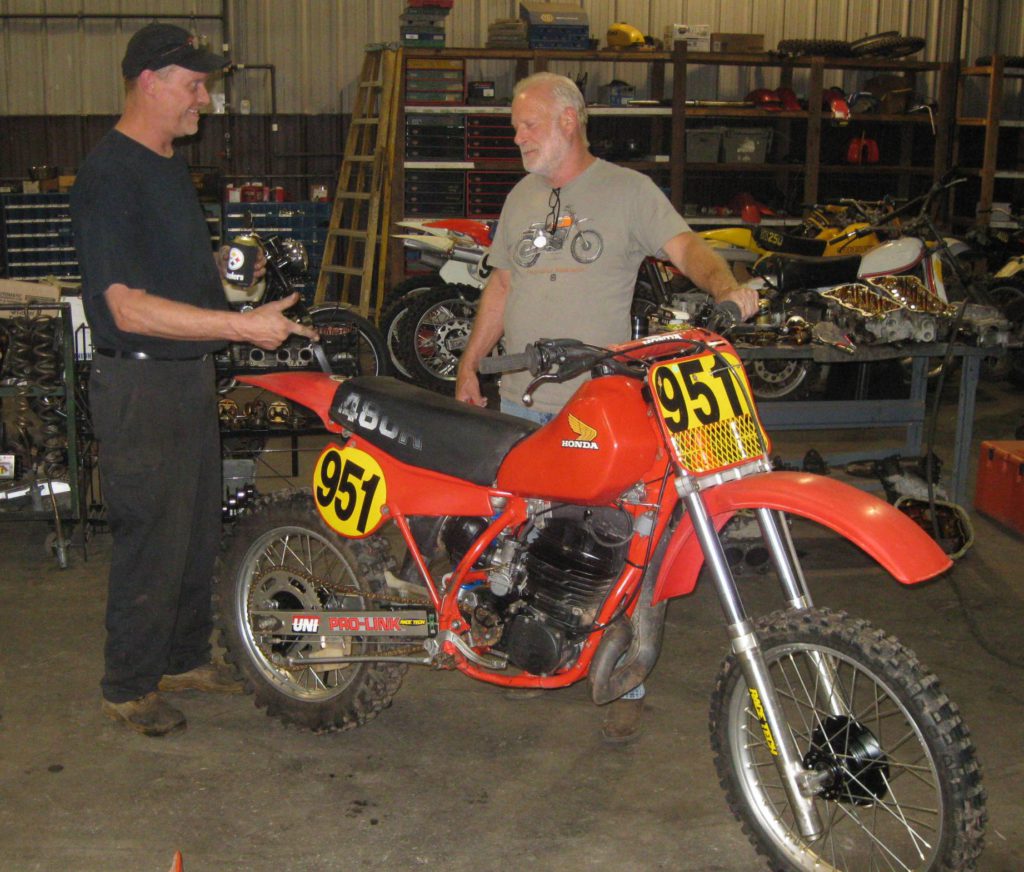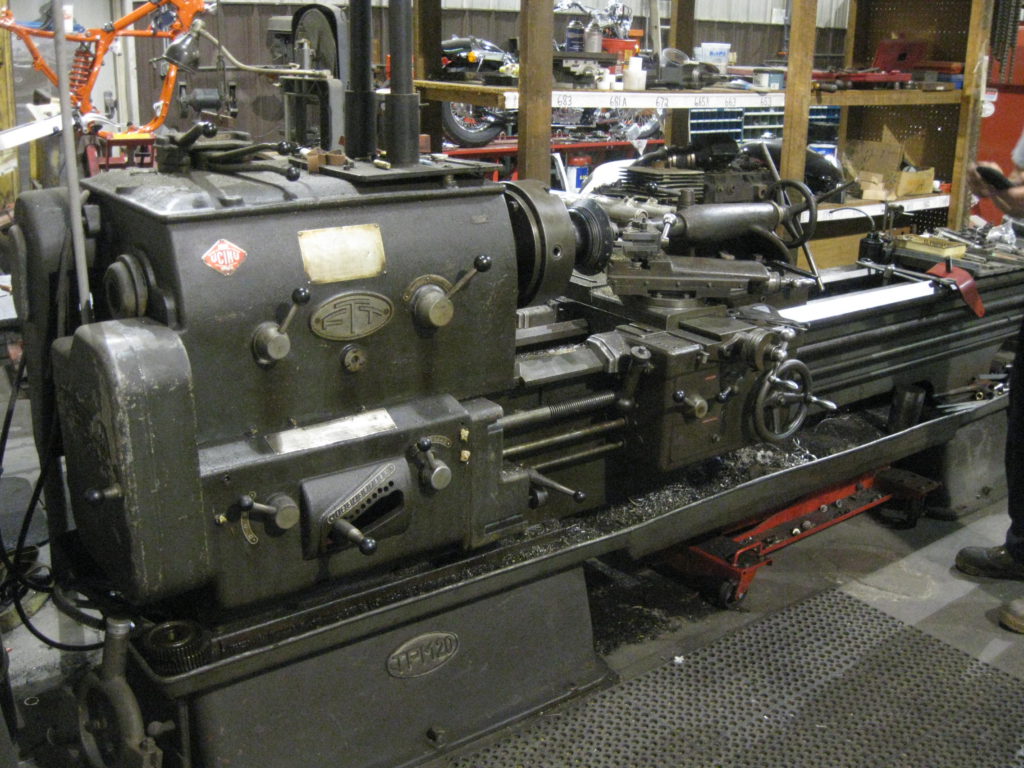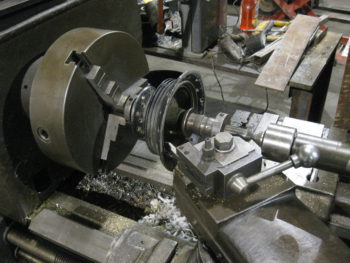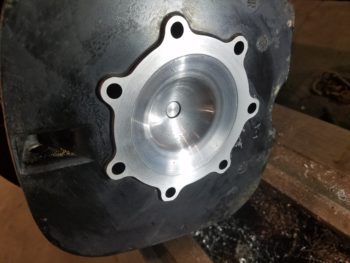 Typical novel use of the monster lathe at A-plus: The top end bearing on your barn find has let loose and turned the cylinder head interior into a pockmarked battleground? The boys affix it to the lathe, then carefully turn it down. Off comes a shiny near-new compression area.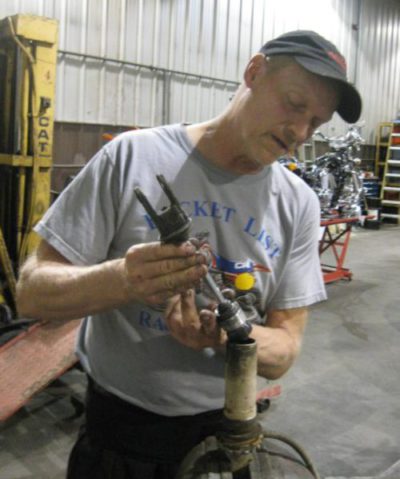 Rebuilding old mono-shocks is very often a challenge for restorers. Professional suspension rebuilders seem to either not be able to get the parts, not be interested in dealing with old iron, or need to charge you $350, and more, for the job. In fact, these units are fairly simple…but you have to know what you're doing with compressed gasses and be ready to fabricate unavailable parts. Mike and Norm have broken the code, and routinely rebuild and tune antique units. (Need yours done? Contact them!)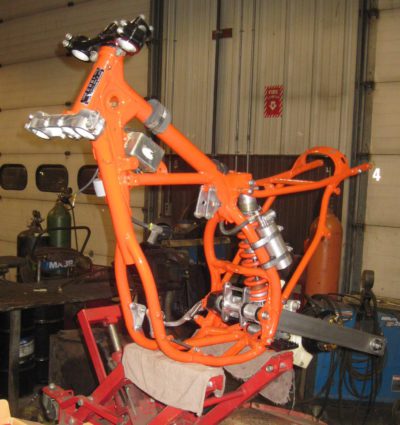 No spray cans here. After sandblasting a Honda frame out back, Mike has repainted it with ultra-hard automotive paint, matched to the original color. Unlike more expensive powder coating, paint can be readily removed in the future, if desired. The mono-shock was rebuilt by Mike, and this chassis further bristles with many hand-machined alloy goodies.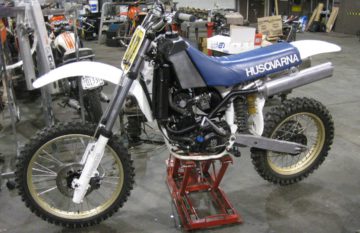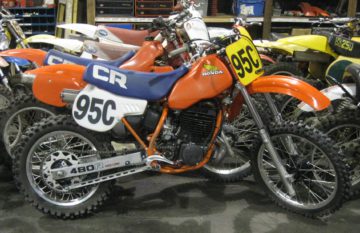 Friends' bikes are frequent visitors. The 1982 Husqvarna 510 belonging to Dale Houck is in for some engine work. The 1983 Honda CR480, belonging to Norm, is reputed to have been raced by national pro Trampas Parker in the 1990 Vet Nationals. It's been ported for mid-to-high-end performance at the pro level, and is scary-fast.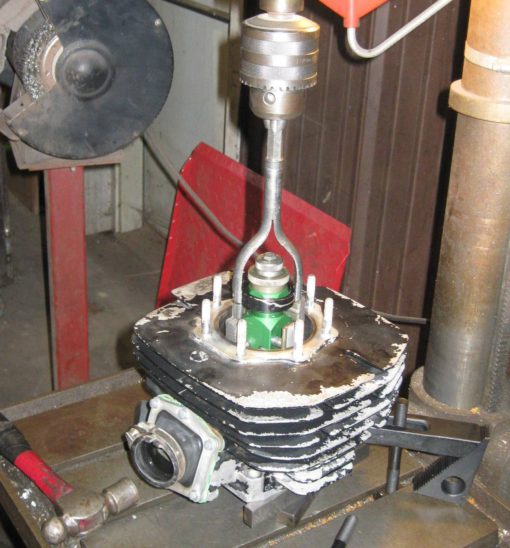 An example of innovation on a budget. Using a very old (and very precise) automotive cylinder hone, a cylinder can be bored to the next oversize. Precise measuring and careful work are required, but it can be done. (Mike notes that hones like this are no longer readily available, new; you'll have to look on the vintage market for one.)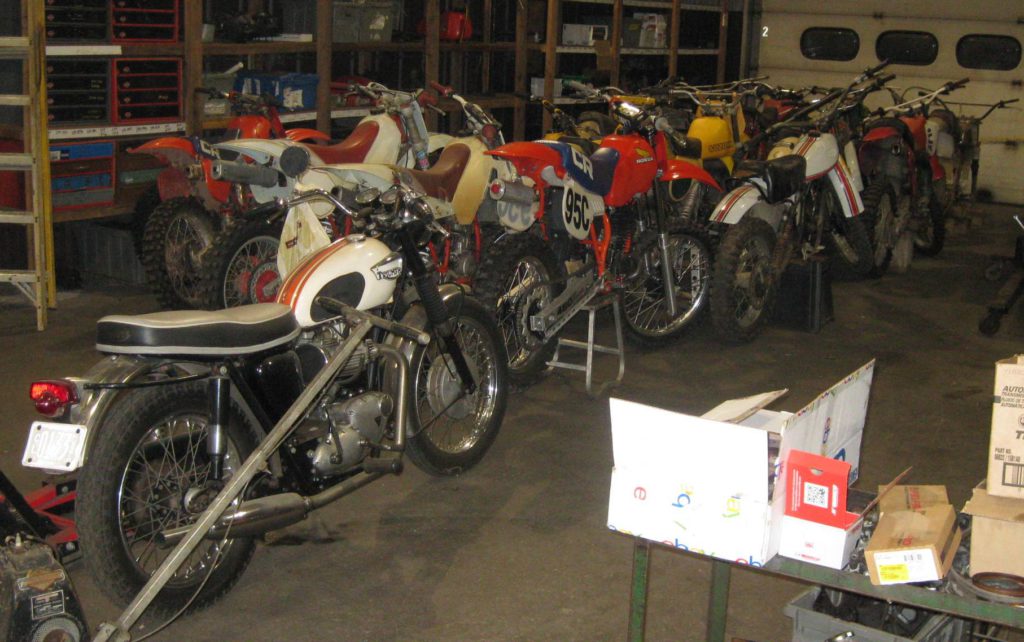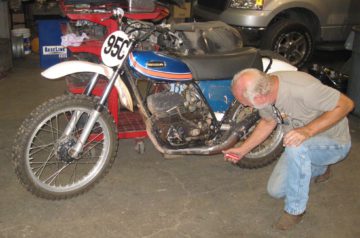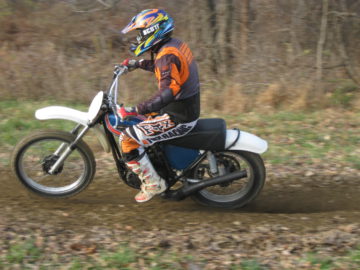 Norm is Mr. OSSA, and has an impressive collection of this great Spanish brand. On the left he reviews what happens when vintage down pipes and mother earth collide, on his 1974 OSSA 250 Phantom. On the right, Norm applies gas to the Phantom. The bike will pull with any 250 around, old or new.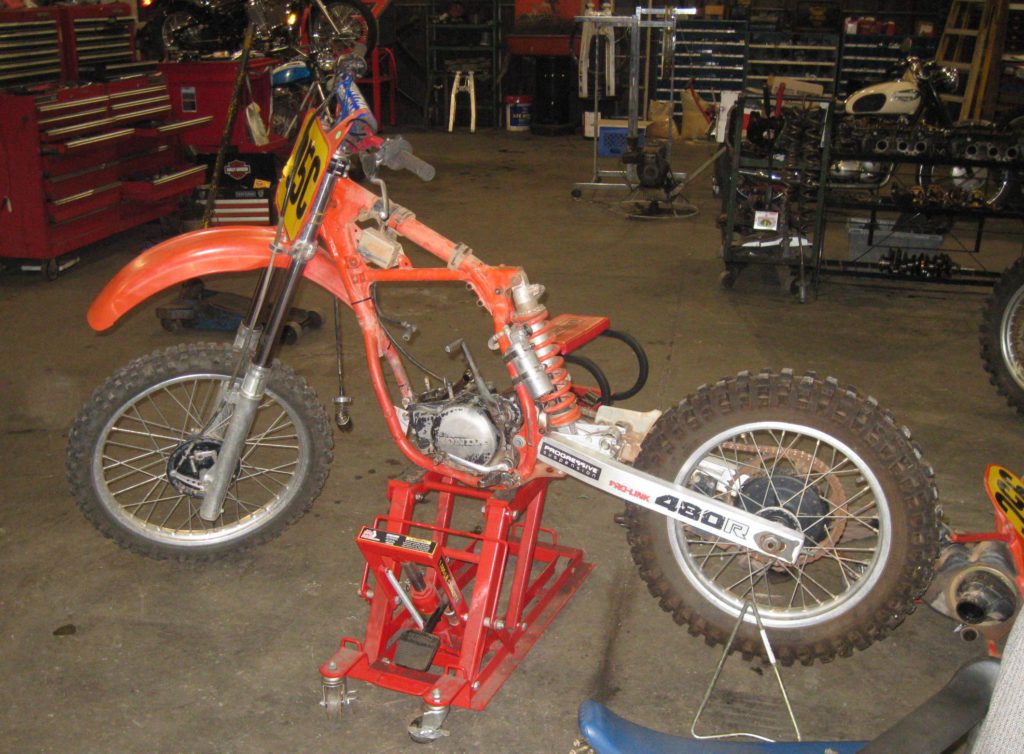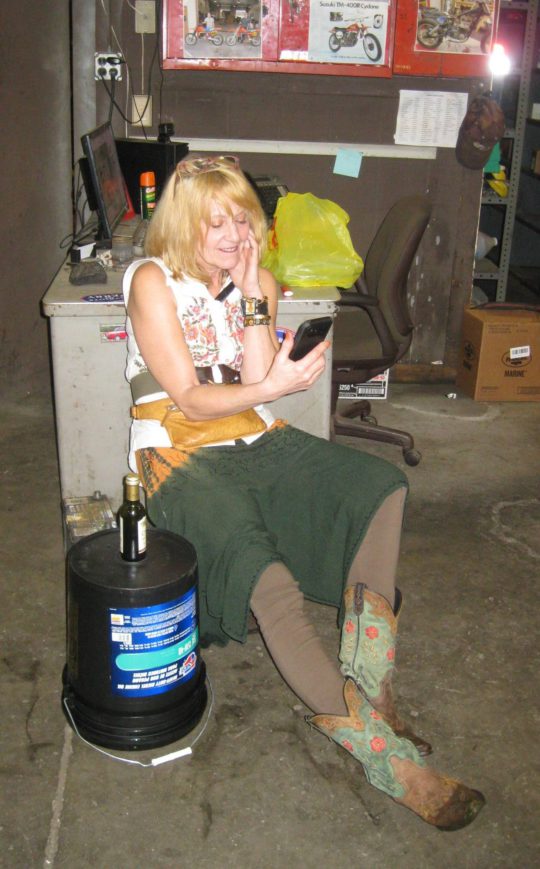 Women are encouraged at A-plus garage! Content moto-journalist wife, Karyn Russell, checks in to see what the Deep State is up to, on location, while enjoying the ambiance of vintage motorcycles and the scents of aged petrochemicals. Note the calming presence of wine, atop daring post-modernist garage art/five-gallon can.
We hope you enjoyed this tour of another great central-Pennsylvania vintage garage. Mike and Norm would like to do less heavy truck maintenance and HVAC work, respectively…so, if you have an old bike need, give A-plus a call. Vintage two-stroke engines and transmissions are their specialty.
(A-plus can be reached at 717-932-0430, or aplustruck@ frontier.com. They are located at 665 Laura Court, Lewisberry, PA, 17339.)