It's July, it's hot, and time for the annual AMA Vintage Motorcycle Days (VMD) at the Mid-Ohio racetrack in Lexington, Ohio. Time to pack the trailer with a bike, some camping gear, bins of tee shirts (in our case) and hit the road for the home state of John Glenn, Eddie Rickenbacker and the Wright brothers—all guys who liked things with motors, too!

For those who don't know, VMD is an annual festival of not just vintage but all motorcycles. Kind of like . . . if your idea was that the motorcycle world included more than Harleys, and you weren't particularly into crotch rockets, and you've been around long enough to remember when bikes had individual appearances and racing stars didn't have nipple piercings . . . this is the festival you'd design. VMD has been at this location since the very early 1990s; it's a fine venue, and one couldn't ask for much more in terms of the site. The three-day event is comprised of road racing (the 2.3 mile Mid-Ohio IndyCar-capable sports car course runs around and through the site), infield events (vendors, bike shows, seminars), off-road vintage racing (in the "motocross area" on the west fields of VMD), other events (manufacturer test rides), and the great Swap Meet. By necessity, Christian & I spend the vast majority of our time as vendors in the swap meet area. Admittedly, while life is far more than 'things,' things do allow us to tell a story and interpret much . . . so, we'll do exactly that: tell this year's story by examining some of the items we came across, interspersed with several of the fine friends we meet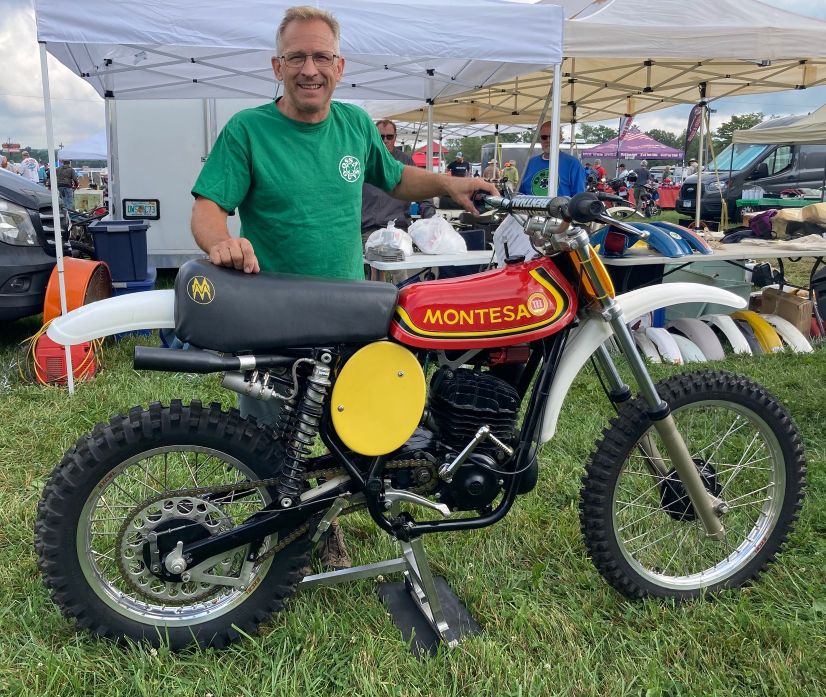 VMD is the perfect place to buy and sell motorcycles. Here Baltimore's Mike Slate poses with one of two Montesa VB360s he restored and brought to sell. Buyers wasted no time in taking both from the premises. "Don't you want to hear them run?" "Nope; that's OK." These last gasps of the Spanish off-road industry, pushing the limits of the outdated twin-shock suspension that contributed to their demise, always attract great interest.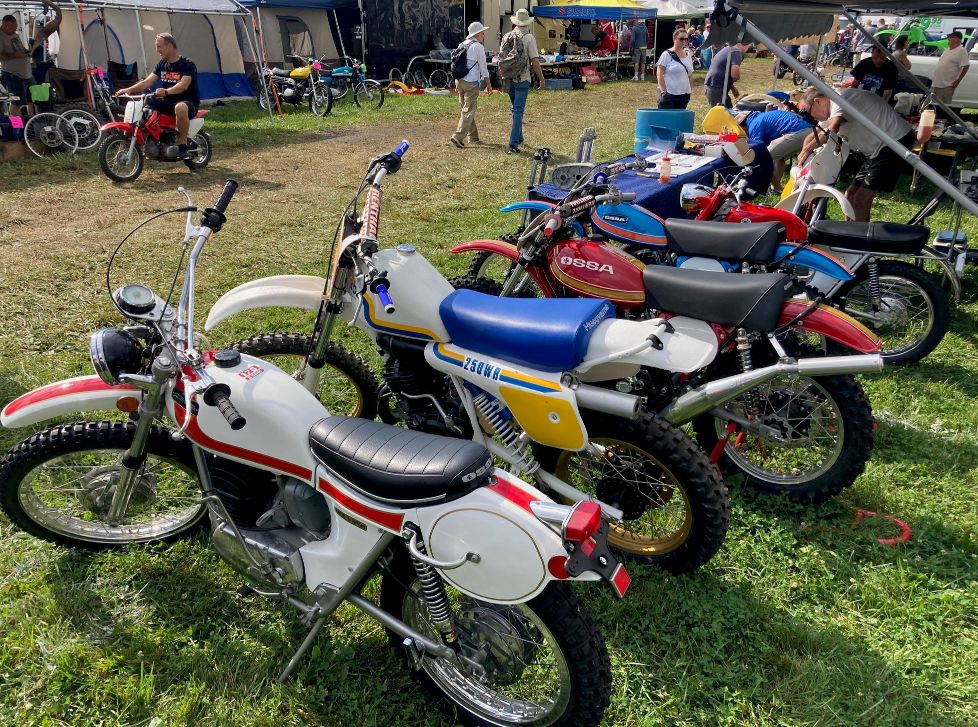 Speaking of Spanish motorcycles, here we go. Our vending spots border what's become known as OSSA Land, inhabited by OSSA collectors/restorers/vendors. Here sit, from the closest to farthest, a beautiful 250 Six Days Replica (SDR), a Husky interloper, a '74 250 Desert Phantom, and a '74 250 Phantom. All for sale, for the right price . . . it's interesting that such motorcycles—that will probably never be run, though they must be able to be run—retain such value. But then, antique firearms, swords and armor aren't generally, used, either. Still, we Americans are an odd and affluent society.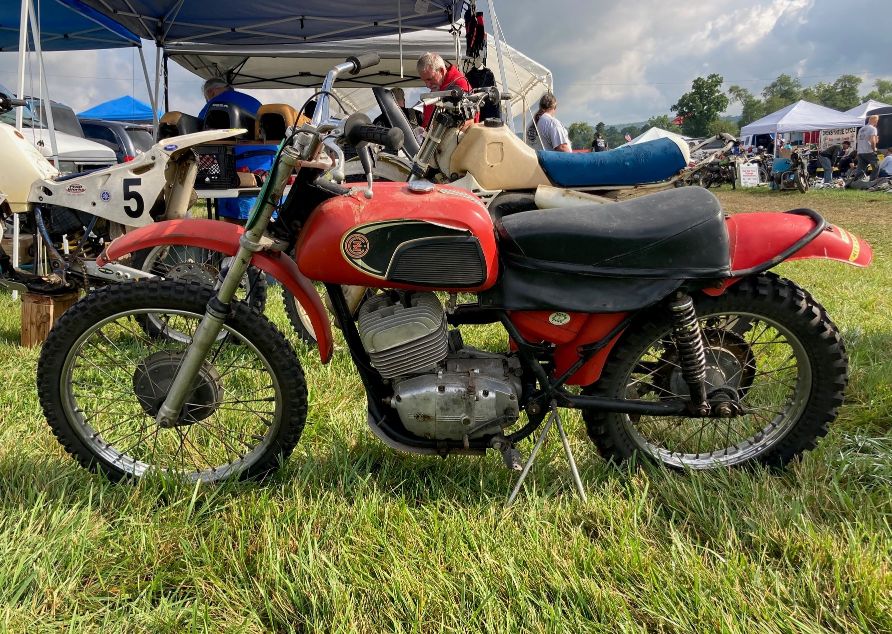 Sitting across from us were a host of restoration candidates. This locked-up-but-"mostly-there" (as they say) '73 CZ Enduro sat with a masking tape label asking $1850. It continued to sit there, when we left, though with a lower asking price. I bought an identical CZ at VMD for $475, a decade ago; the prices are still rising. CZ (still in business and continuing as a respected gun manufacturer) was one of the go-to makers of quality, purpose-built dirt bikes in the 1960s and 1970s, at a time when only the Europeans offered a good (though often exepensive, finicky and maintenance-intensive) dirt bike. This year's VMD featured marque was the Honda Elsinore, introduced in 1973 and symbolic of the reliable, capable, and reasonably-priced Japanese motorcycle that would change everything for the old European makers.
It's always interesting to see just what prices some sellers will ask, and what some old bikes will bring. These bikes—a circa '72 Puch 175 on the left, and 60s Triumph twin on the right—were offered by the vendor next to us. Being a Puch fan, I checked out the $550 locked-up Puch and initially decided that nothing on this roller was worth more than scrap. Looking a bit harder, with cash in my pocket (and, let's face it, thinking I had to take something home for cheap), I decided I'd offer $50 for it, at the end of the show. Then, I upped my mental offer to $100. Can you guess what may have caused me to be so extravagant? Well, the bike did have—underneath it's over-everything coat of gold spray paint—a set of the rare Magura "enduro" levers; those with the scalloped edge to keep a grip in mud. Furthermore, who knew what those "baby Ceriani" 32mm forks might look like, under the paint? And resin Puch tanks are always re-useable. Alas, it was not to be; a buyer put up $250 for the Puch on Saturday, and gave it a new home. The Triumph hulk was still sprawled and unwanted, Sunday afternoon.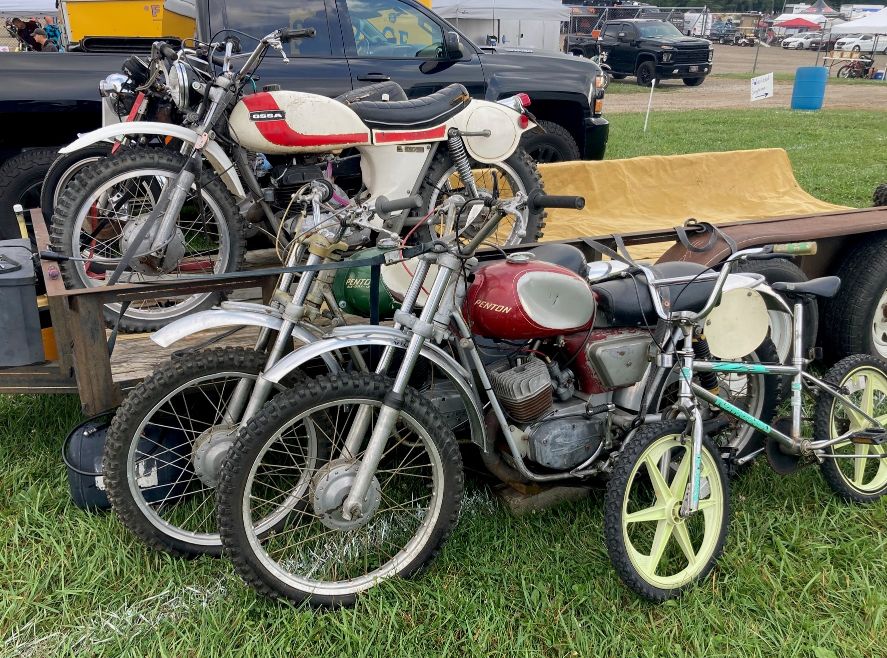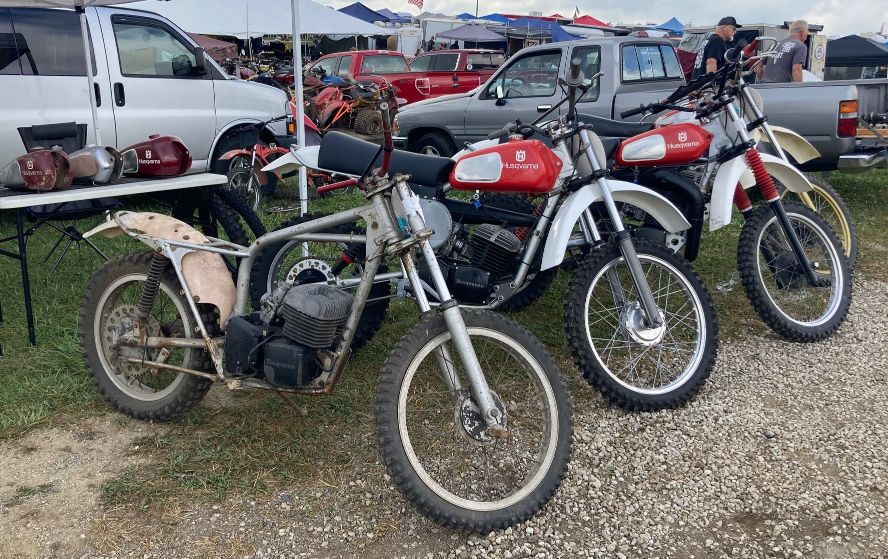 Other European bikes were very common this year at VMD—not always the case. On the left a remarkable pair of early Sachs-engined Pentons sit, along with a very solid OSSA 250 SDR. On the right, a trio of Husqvarnas. The rear two restored and race-ready (or den-ready, as the case may be) Huskies carried asking prices of about $5000 each. Like CZ, Husqvarna began as an armaments concern and still exists; its motorcycle line is now owned by KTM, but the Swedish company continues on as a respected manufacturer of outdoor equipment. We noted that the Penton enthusiasts didn't set up their perennial Penton Village this year; apparently dissatisfaction about something.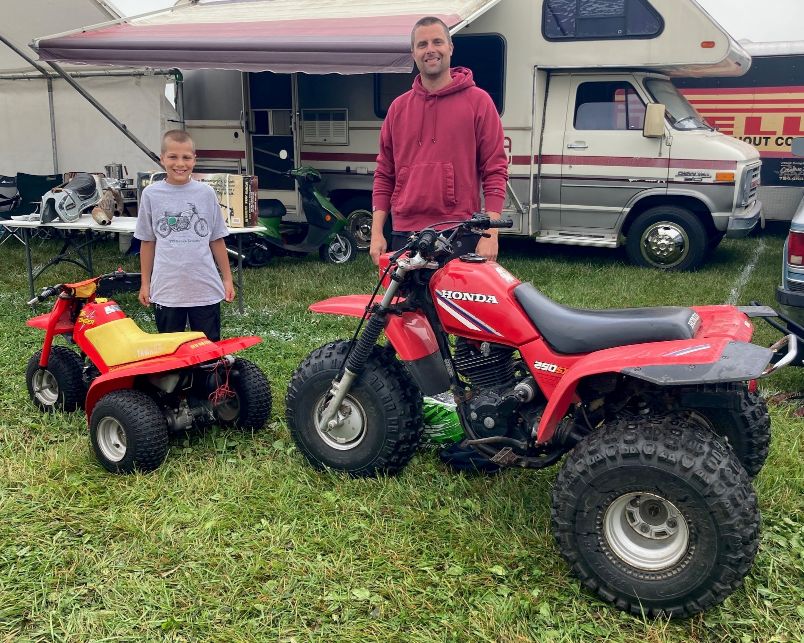 We were happy to see discriminating tee shirt customer Caleb and his dad Chad down from Michigan, and riding up on their vintage Honda three-wheelers. What's more, Caleb had just bought the smaller machine with his own saved money! Father and son were cruising the isles on their rare machines, and looking sharp. The three-wheeler craze developed from the dirt bike "boom" of the early 70s, and led—after pressure from governmental safety organizations, combined with the manufacturers themselves backing away—to the four-wheeled vehicles we now see. Three-wheelers are thus a bit rare and are much sought by collectors.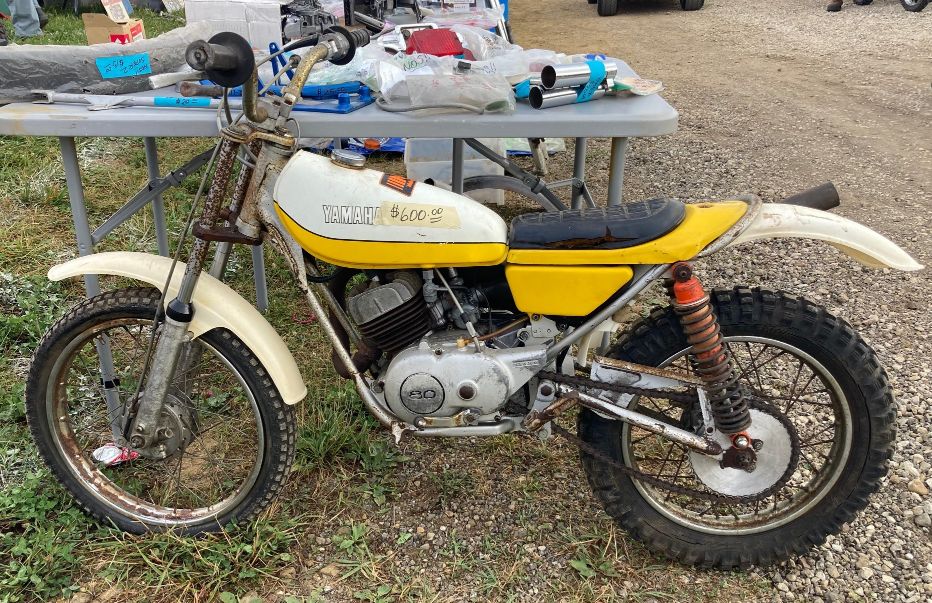 Speaking of smaller machines, the Yamaha TY-80 is always fun to see. The early 70s trials movement never quite materialized as expected, but resulted in some fascinating miniature trials motorcycles by Montesa and Yamaha. This example—though definitely needing work—was modestly priced and surely found a new owner by the end of the weekend. Note that, like the Honda MR-50, it is a miniature motorcycle, and not a mini-bike.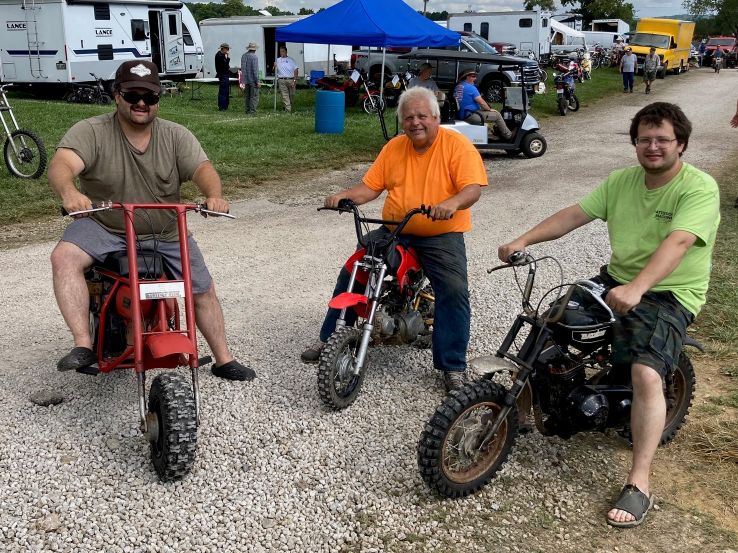 And while on the topic of small bikes, the Wryes—Bob Jr.,Bob Sr. and Alex—cruised in, ready to impress on their minis. Bob Jr. holds back the animal impulses of his Tote Gote (left), while Alex emanates 1970s klass on his Rupp Black Widow. Due to a family emergency, the Wryes drove the 6 hours from northern PA to Ohio and back, the same day. Gentleman vintage motorcyclists simply do not miss VMD.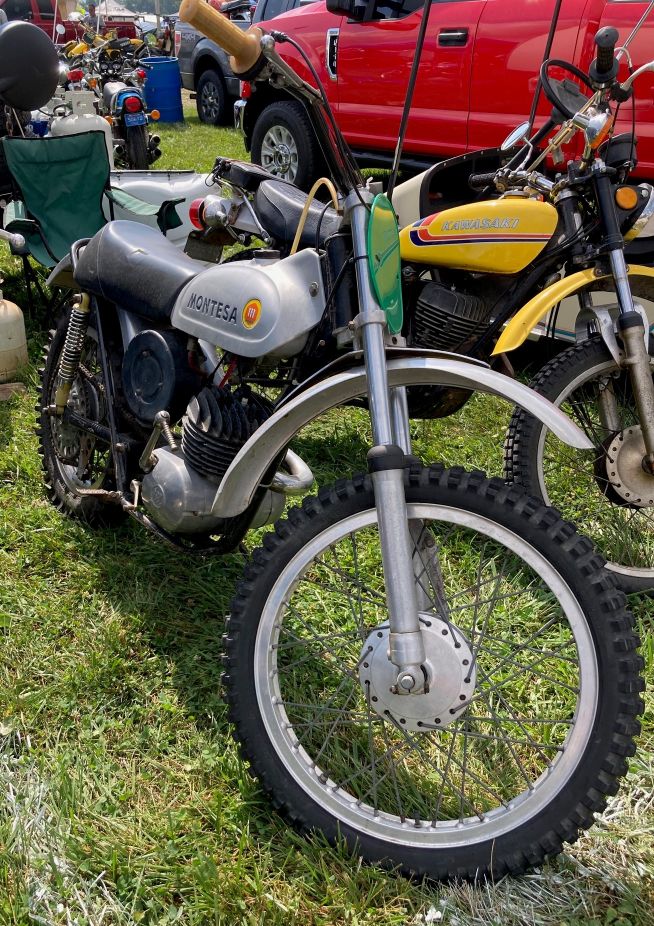 Speaking of higher sensibilities, is there any vintage dirt bike so bereft of non-essentials, so pure in design, so utterly functional, as a Montesa Grey Ghost? This restored beauty went home with, I believe, Spanish guru/engine builder Joe Bilazzo. If you were a healthy 12-year-old boy, circa 1972, YOU WANTED THIS BIKE.
Keeping old bikes in the family! Or, putting them there! On the left, Elijah Fisher is helped by Uncle Mike and Uncle Norm to load another VMD treasure onto the pick-up truck, as Norm ponders how many more old bikes he can indeed fit into his own basement (Informed sources say it is six more. This will make about 66, total). Elijah is a devoted vintage Kawasaki enduro enthusiast, already with a multi-bike collection. On the right, a father and son disassemble their new/old OSSA explorer project to the extent that it will fit into the younger's Rav4 for the trip home to northern Ohio.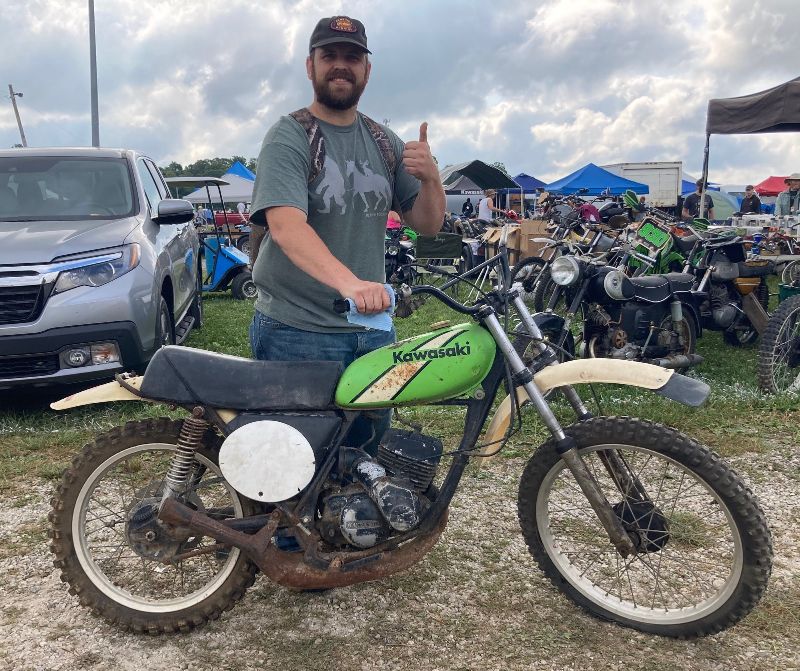 Another Kawasaki fan is this young man from Michigan. He has several vintage Kawasaki MX bikes, and was literally grinning as I caught him pushing this very original 1974 KX-125 uphill to his campsite. This example still has all-original parts, down to its Dunlop Sport tires and unique, un-mashed megaphone pipe. The first-year KX-125s are not nearly as common as TMs or CRs, as every dealer was, I've been told (while searching for mine in 1974), only given two 125s for the sales year. With its rotary-valve induction, wide power spread (for a racing 125, in perspective), six-speed transmission and well-conceived layout & design, the first KX-125 is a beautiful collectible.
It's interesting to me that young people like these are passionate about motor vehicles (or any bit of material culture) that were not of their era. That is, it's easier to see why someone who grew up owning (or wanting) a certain bike—like you and I—now pursues it. Example: I like old Kawasakis because I had them, and vintage contemporaneous Maicos because I wanted them. But for a young person to develop an interest in antiques that appeared and faded before they were born would seem to be a much more complex, educated and nuanced attraction. We should applaud them for their taste and enjoyment of history!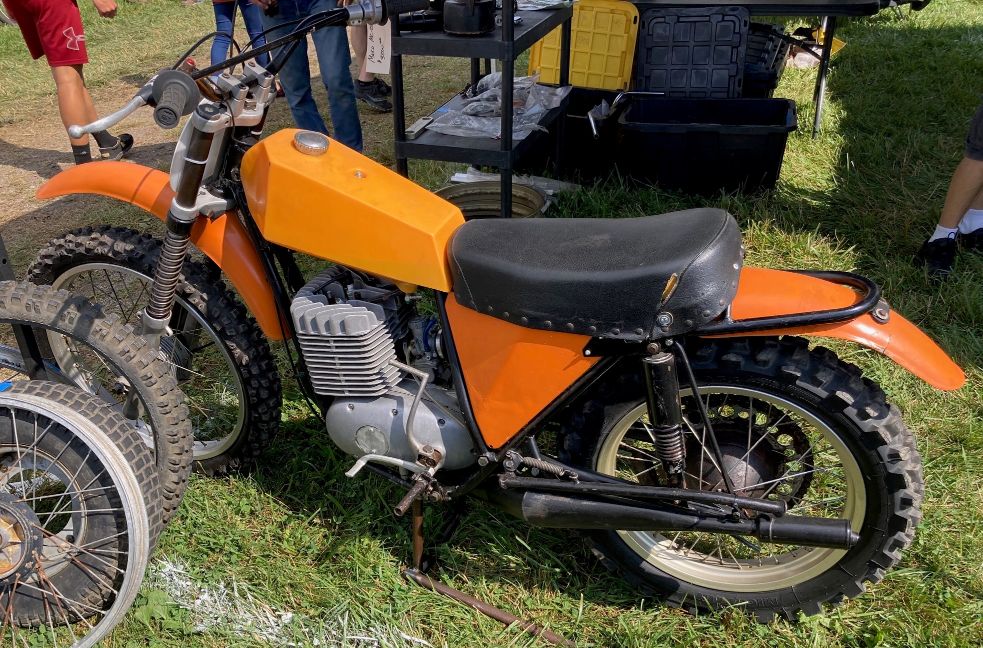 Maicos were fairly abundant at VMD2023 . . . "fairly abundant" meaning there were more than about ten to be seen in the swap meet area for sale. This early square-barrel 250 was offered for [what I felt was] a very reasonable $3200 or so. On the negative side, the fork tube tops are rusty, and the tank and rear rim are wrong. On the much longer list of positive features are a running engine, correct fenders, a nice original pipe (and even the always-discarded kickstand), original shocks, and the only fiberglass airbox of this type I've ever seen, outside the parts manuals! It did not appear to sell by show's end.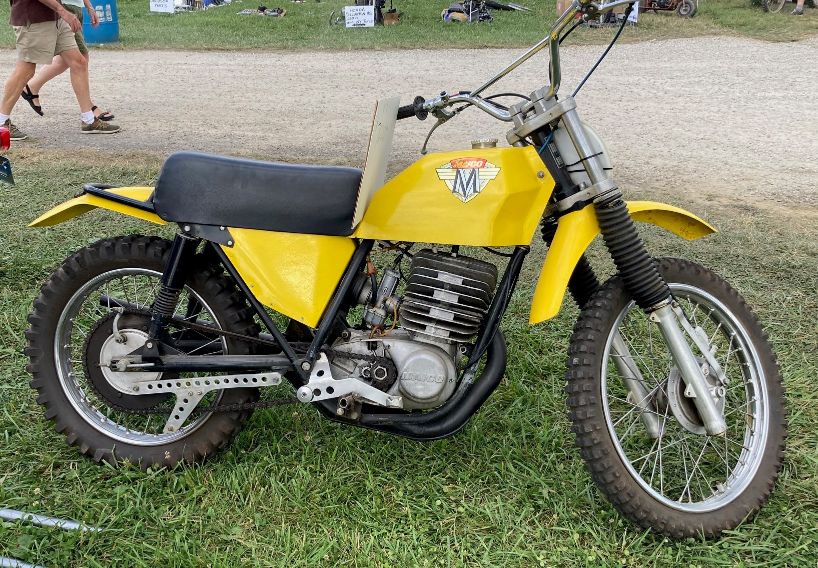 This 1973 440 radial Maico was in superb original condition, and priced at something over $7000. Note the aftermarket Wheelsmith rear brake stay arm/chain tensioner and brake pedal. Wearing original chrome Radaelli rims, Metzlers, and OEM sprocket and shocks, it appears to be an extremely nice barn find original—from a very nice, heated barn, at that. Note the hollow-steel smooth foot-pegs; other than the very slight upturned bend at the ends, they were just a slippery, dangerous and terrible as they appear. Those 36mm Maico external-spring forks were the very best in the business, from about 1968-1974. This example features the larger fiberglass tank—a design flaw from German Maico which almost certainly leaked from new. And actually using a Maico kickstand would could easily break the frame. How or why the company with arguably the finest engine, forks, frame geometry and overall handling in the dirt bike world at the time would put such inane features on a high-end machine was a mystery then and now.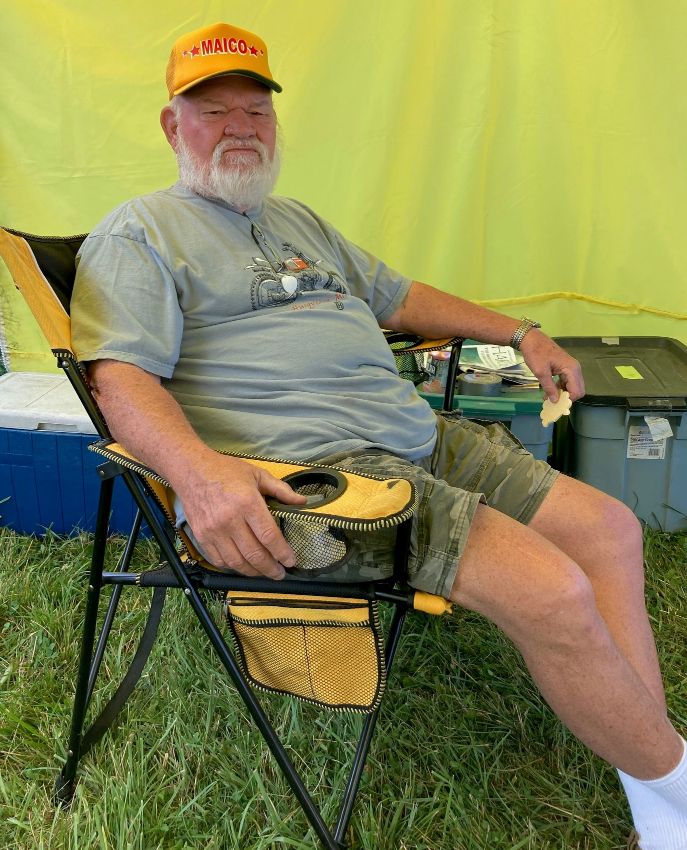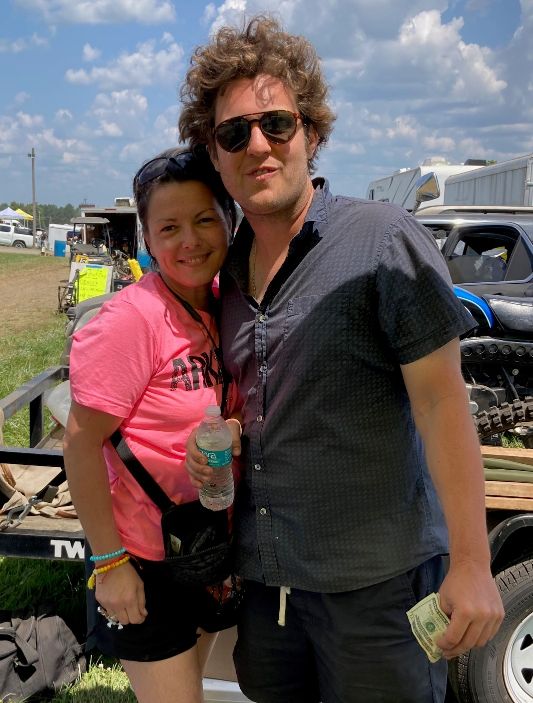 Mike Adams from Alabama, beautifully expressing my general attitude on the 2% of ingrates who refuse to stop walking and shut up while the National Anthem is played, on Saturday and Sunday mornings. There's always a few—and probably the same ones who tie the large American flags to their cruisers. But that's my problem. Mike has an impressive collection of vintage motorcycles, most of which he's personally restored. On the right, effervescent Dixie from Arkansas stopped by later—down to pick up a BMW with her husband. (Dixie, you DID find your lost bag, we hope!!)
Oh, after decades of attending & camping at VMD, we'd like to share a few coping strategies! First, avoid the Porta-Potty for more extended events. When it's 90+degrees you do not want to be in there. The alternative is to ride over to the nice, clean, spacious air-conditioned staff toilets, in the midfield. Second, we finally got tired of the late-arriving, lukewarm, weak coffee. This year we brought our own French Press (Can we call that a "Freedom Press"?)—all you need is hot water & ground coffee. Finally—if you MUST shower at the Mid-Ohio showers, take a pair of flip-flops. While not the worst we've ever experienced, you'll still wish to subscribe to our mantra of Let no part of my body touch this floor!
A number of Kawasaki 350 "Bighorns" were offered, from rough examples like these to restored riders. For reasons that elude me, nobody seems to think Bighorns, the flagship of the Kaw on/off-road G/F-series, are interesting. In the boom years (circa 1970-1975), Kawasakis were always the fastest of the Japanese enduro bikes—and say what you will about Japanese bikes, generally, but they're likely the ones that most of us could afford, took the lights off of, learned to ride on, and fell in love with bikes on. My G3 100 could run circles around my best buddy's SL125 . . . and any displacement Kaw was generally at least as fast as the next largest displacement Yamaha, Suzuki or Honda. The Bighorns are beautiful machines with that same strong signature rotary valve engine. The 1970 F5 Bighorn on the right was actually conceived to be easily modified as racer—at least insofar as the Japanese designers imagined an American off-road racer to be (see The Junk Man's excellent YouTube videos on this!), and came with alloy rims & fenders. A factory race kit (similar to Yamaha's GYT Kit) was available. Note the exhaust; it's as heavy as it looks. The 1974 F9 project pile (right) never did sell. As someone who's restored an F9, I'd suggest going for as nice a running bike as you can find (rather than starting with a cheap junker); one can quickly get thousands invested in a restoration, when excellent preserved running bikes do appear for around $3000 & up.
Putting it another way, if faced with making good my escape from the Zombie Nazi invasion or surviving the Cross Bronx Expressway, and given the choice of a pristine Maico/Husky/CZ or any good Bighorn as my ride, I know what my choice would be.
For vintage collectors, one of the greatest advantages of VMD is the chance to see or acquire motorbikes you may never have heard of! Here are some that I knew little or nothing about (clockwise from upper right): a Ducati Mountaineer 100 (asking: $2995), an Omer KL100 (Italian; asking: $500, including an extra engine and other parts), a Puch-engined Sears Saber (asking: $1000), and a motor-driven bicycle (asking: $100). My pick would have been the Omer, which is actually pretty well constructed for a lightweight and undeniably funky—but it was gone when I returned. (The seller called the bike an "Omar", but the only similar reference I can find is the Omer, an Italian bike built between 1968 and 1981 with Minarelli and Morini engines, according to The Encyclopedia of the Motorcycle, which looks right. In any case, it was certainly restorable, and you'd likely be the only one in the neighborhood with one.)
Part of VMD is the "Saturday night craziness" (that's what most folks call it) in the motocross camping area, to the west. Traditional activities include the Burn-out Contest and the Pit Bike Races. The Burn-out Contest (left) is . . . people doing burn-outs to throbbing music, as a master of ceremonies known as The Captain narrates. This goes on for hours into the night. Just burn-outs, all night. The Pit Bike Races—racing anything (bikes, golf carts, 3-wheelers), in the dark, around a small track, with no rules and probably after a few beers—was cancelled this year, owing to a serious injury on the track, the night before. (Who could have imagined this outcome?) This year a new entertainment was added, several 'punk' bands playing near the pit bike track. I'm no musicologist, but "death metal" would better describe the music. Along with the bands came a bunch of non-biker fans, and even a stand where you could get free shots of hard drink, providing you first agreed to be shocked with a cattle prod (not sure who funded this operation). Awesome! The best face, neck and thigh tattoos in central Richland County were on display. A "Bang Your Head into the Suspended Plastic Taco" riding contest (right) spontaneously developed near the death metal concert. ("Bang head. Head banging." Hmm . . . linkage?) Perhaps this was a first-ever melding of the bikers and the metal-head folks to form a new cultural movement.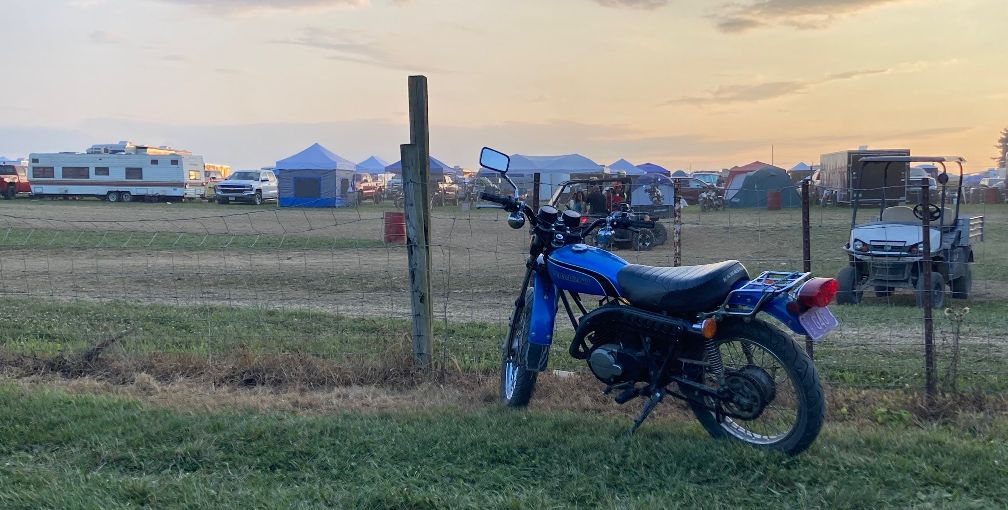 All good things come to an end. Here our utilitarian F7 takes in the sunset, looking across to the non-happening pit bike track. Time to go back to the tent and get a good night's sleep!