The Fall Hershey National Antique Auto Meet and the Vintage Motorcycle Enthusiast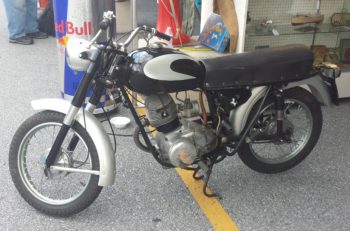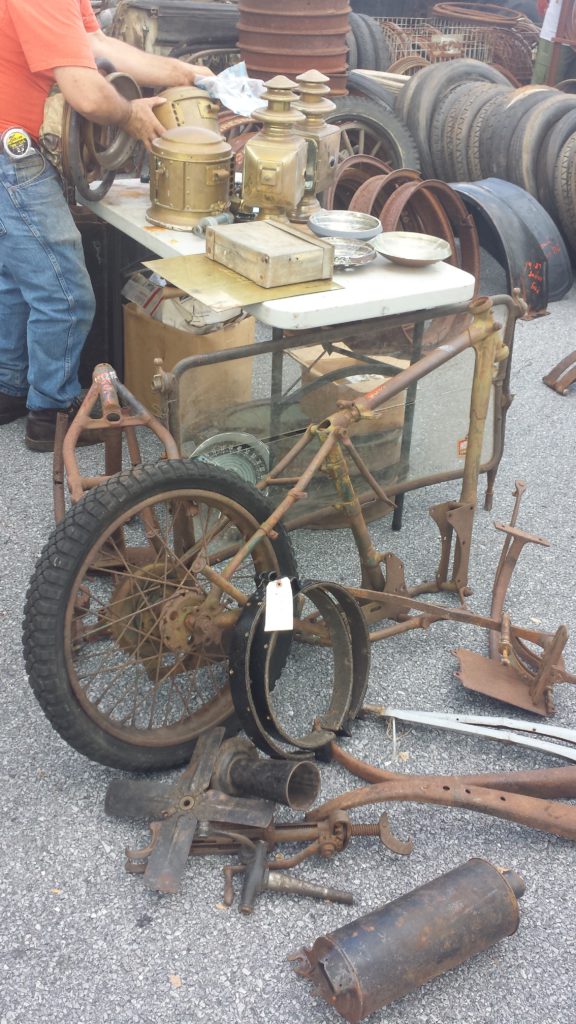 Let me be very clear in locating my interests solidly within that demographic which might be known as "Vintage Bike Enthusiast—Level: Unhealthy!" I and my friends are without a doubt old bike-crazy to an extreme degree. We own too many of them, think too much about them, and should certainly be concerned more about other, more important things. I state this up front in this essay, lest the reader feel we are really "old car guys" with lukewarm attractions to old bikes as well. No—we are bike guys. However, around here, when summer is at its end, the leaves have changed their colors, and the nights and days are a bit cooler, the annual 'Fall Hershey' feeling takes hold of us, and we become rabid Hershey/antique car guys for a few weeks. We DO NOT miss Hershey. Not for the Barber Vintage Festival, not for work, not for optional family events, not because of the weather—nothing. Each year, during that first full week in October, we schedule time off work and look forward to "Hershey week"—our personal, annual vacation. "Hershey" (as it's known simply to us) is difficult to explain to anyone who hasn't been there. "So—it's an antique car show?" Well, yes; but it's more than that. The actual "show" (or, specifically, the competition event among antique vehicle owners for recognition) is on the last day of Hershey week; Saturday. But the show field competition is just one part of the whole. Hershey is also—and, most importantly for many of us—10,000 chatty vendors, bringing nearly any imaginable object for sale (though most of the items do relate to the American automobile, auto industry history, or history in a general sense). It's a shopping adventure of walking among and meeting some of the thousands of these vendors (and walking the over-twenty miles of vendor frontage) that is the primary attraction for me and many other Hershey fans. Yes, we're searching for the possible hidden motorcycle (or parts or memorabilia), but Hershey is much more than that. At its most ideal, it's a perfect, sunny fall day with no responsibilities, a few dollars in one's pocket, freshly-made fries smothered in vinegar and salt, a world of old things to explore, and…maybe one more cup of coffee! Hershey is…possibilities! It's not knowing what you'll find, but knowing you'll find something! It's walking among a homemade, temporary Museum of Americana and imagining the origin of the Model-T; thinking of your grandfather and grandmother's car, and seeing America through the millions of bits of material culture that have been kindly laid before us. It is, as best I can describe, "guy shopping." (Or, perhaps "hunting," to compare it to another guy custom.) Come along on a photographic tour of this year's event and I'll try to explain. (Note: because this is an vintage bike column, after all, I'll highlight old bikes at Hershey as we tour the event.)
BSA 441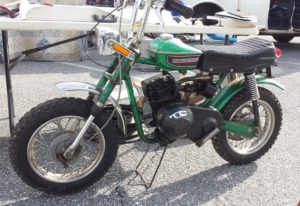 And so…bikes at Hershey! Here we see a circa 1968 BSA 441 (round-barrel) with some mods (asking $1,900) and an assortment of scooters. I believe this BSA has come to Hershey and departed Hershey with the same owner for several years. Back to childhood!—and, actually, a major them at Hershey, if we honestly self-examine ourselves. A Rupp Black Widow, circa 1970, in very restorable condition . . . just like you wanted, if you were a 12-year-old boy in 1970. Who says you can't go back?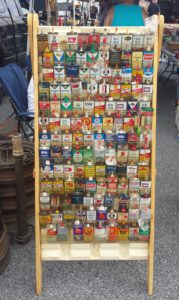 Collectable items related to the automotive industry are known as "automobilia." Buyers amass and curate very specific collections of spark plugs, license plates, gas pumps, oil cans, and more; and have dedicated associations catering to each interest. Here a vendor exhibits small household oil cans for sale—by my count, about 120 different ones.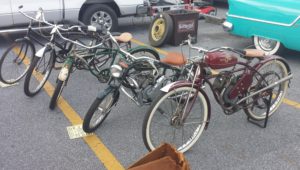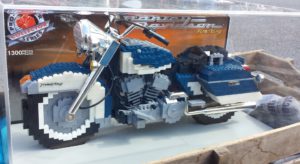 Whizzers (bicycles with attached gas engines) are, like Ford Model Ts, illustrative of how fashion and values change as the buying market ages. Whizzers commanded about $3000 or more, ten to twenty years ago, when they were the childhood dream of the Greatest Generation. With this group diminishing, prices are falling. Who knew Lego made a Harley?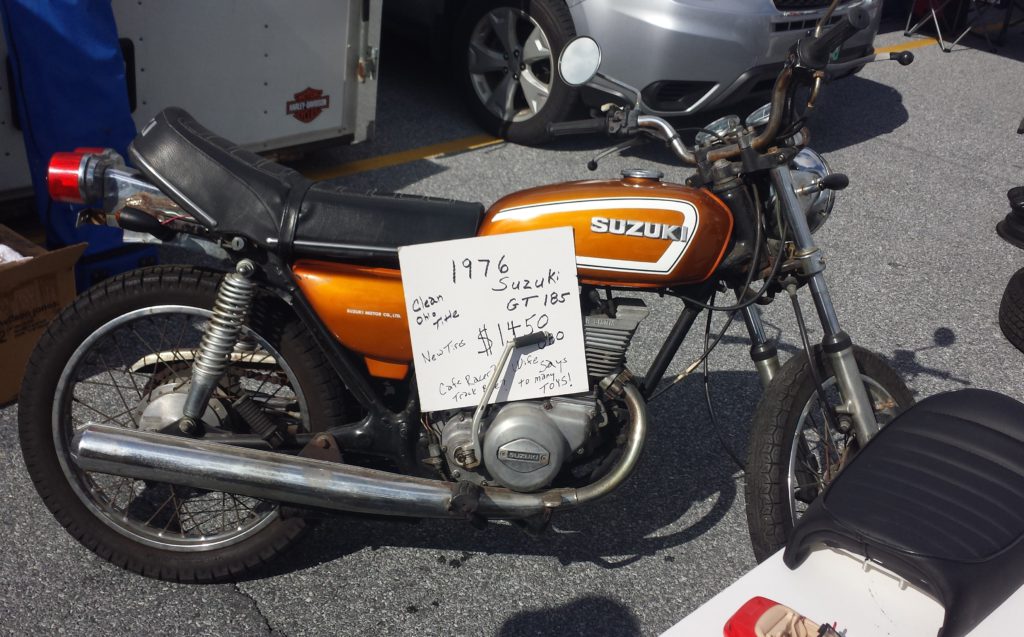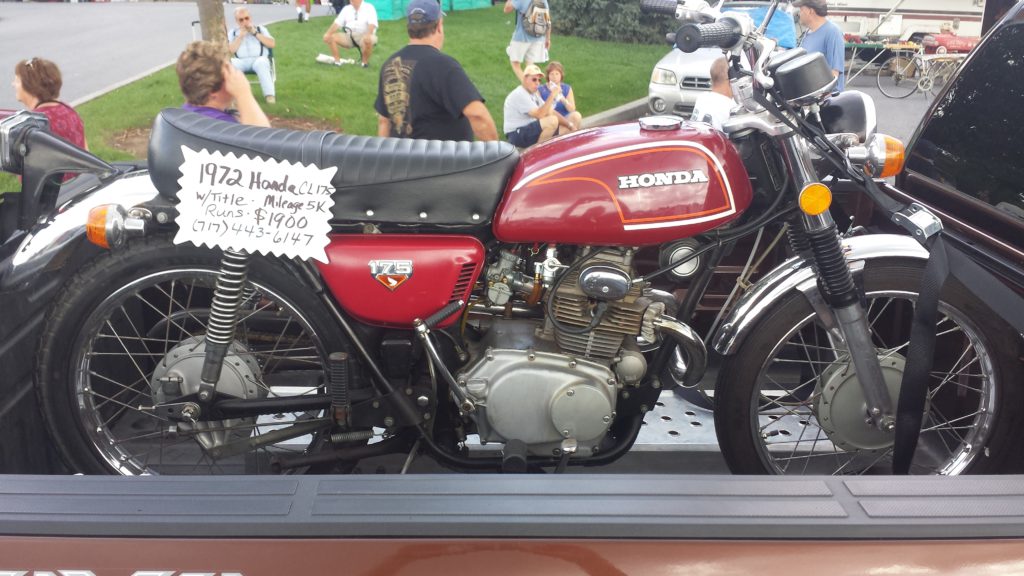 Another typical impression of Hershey is small-to-midsized bikes that you never even knew were made…like these nondescript, small-displacement Japanese bikes from the late seventies. These inauspicious machines have been resting comfortably in garages for decades. Who knew they existed?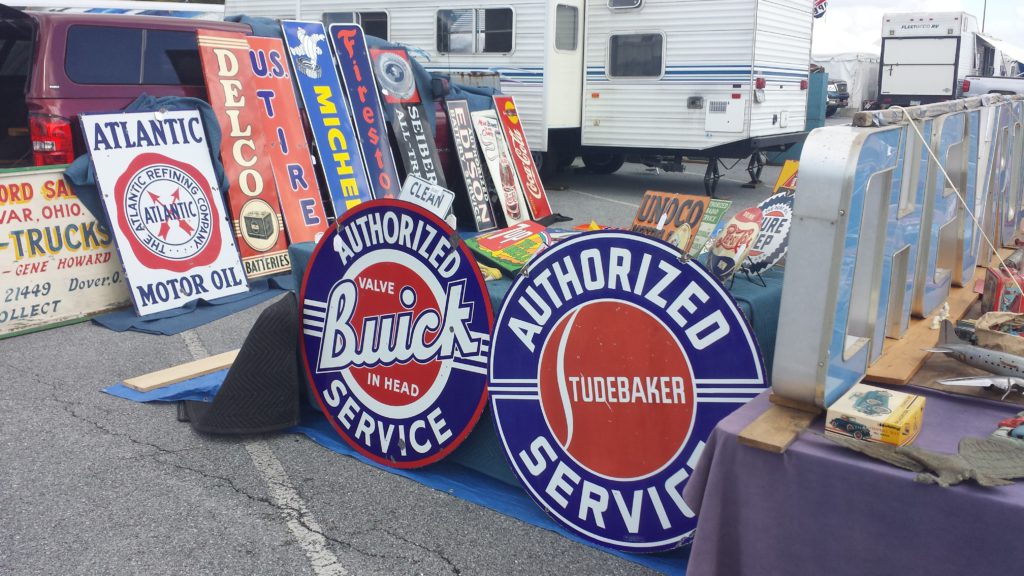 Signs Vintage signs are major automobilia and can be very big bucks—often making the prices the American Pickers pay on TV seem incredibly low. Old ceramic dealer signs like the Buick and Studebaker items here are in huge demand by collectors—probably for their heated "dream garages"—and would be priced at $3,000 and higher. Lighted period automotive dealer signs are the absolute pinnacle of the vintage sign market, and…well, "if you have ask"… you know the story.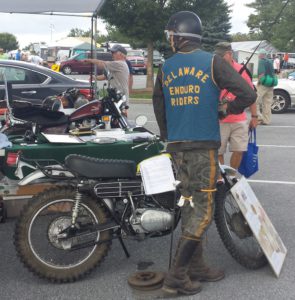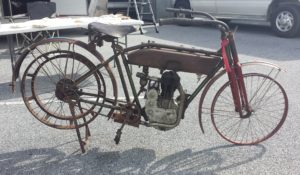 Interesting and creative sales displays are a Hershey pleasure. In this case the seller of a 1969(?) Yamaha DT-250 placed a manikin in full period off-road attire alongside the motorcycle for sale. (right) Early Reading Standard single project bike for sale. While Hershey is 98% an antique car show, antique motorcycles are always present. The asking prices on these obviously valuable bikes usually seem to be especially high; perhaps the sellers are trolling for cash-flush foreign buyers, simply enjoy showing off their treasure.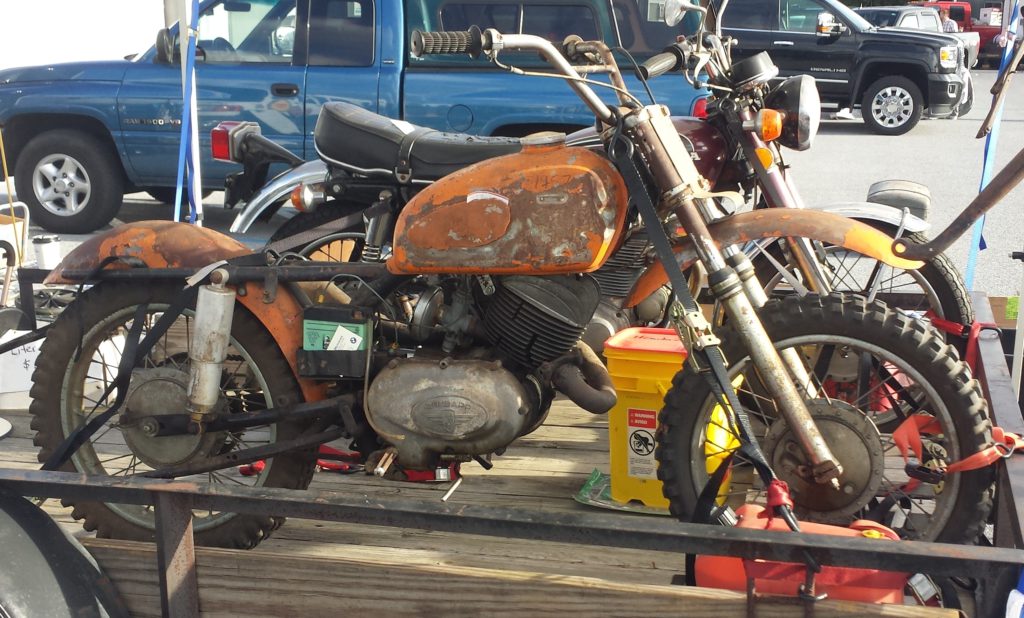 Hershey has a high volume of "weird stuff." While you may not have come to Hershey thinking of acquiring an obscure, crusty, off-road-modified, early sixties Zundapp street bike for $1,800 (asking…of course), nonetheless your dream of a minute ago can become reality. (Or, perhaps you should walk another row and really think more about this.)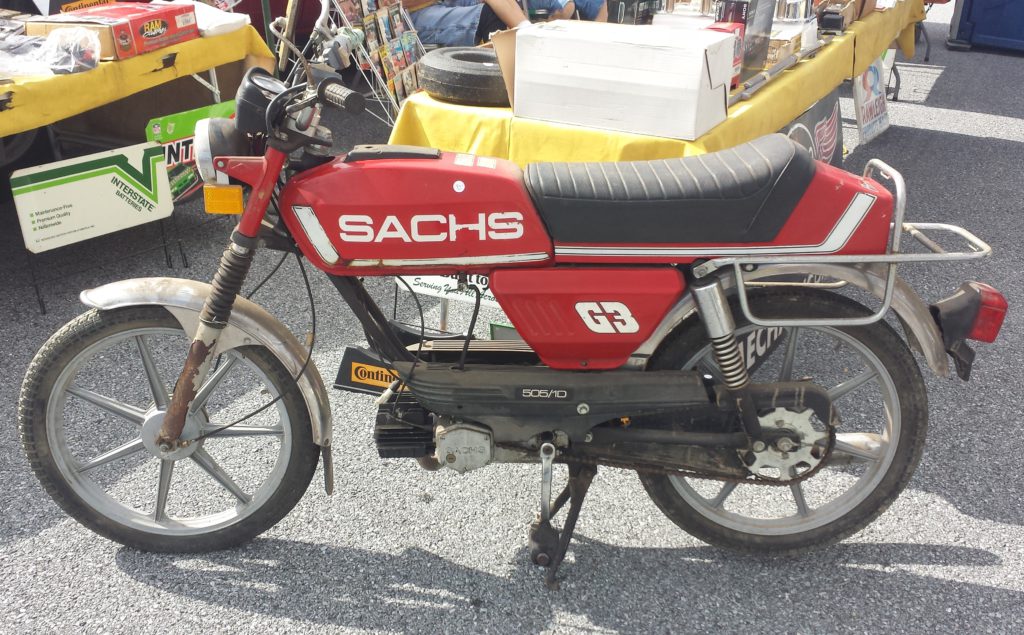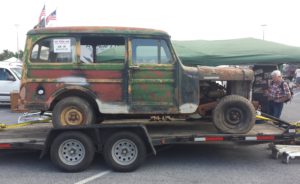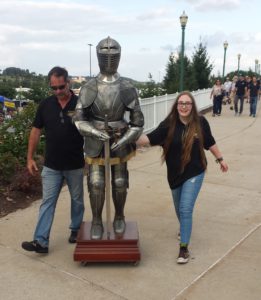 Not quite into the Weird Stuff category, but pushing for admission, is this original 1980 Sachs moped. Certain European mopeds are actually quite in demand…by, well, those people who like certain old European mopeds. This seller is hoping one of them will pass by. (left and right) These two images further illustrate the maxim that you never know what you'll find at Hershey. It truly is eclectic! The Willys looks like it might need some work, but again: it's all about 'possibilities' at Hershey.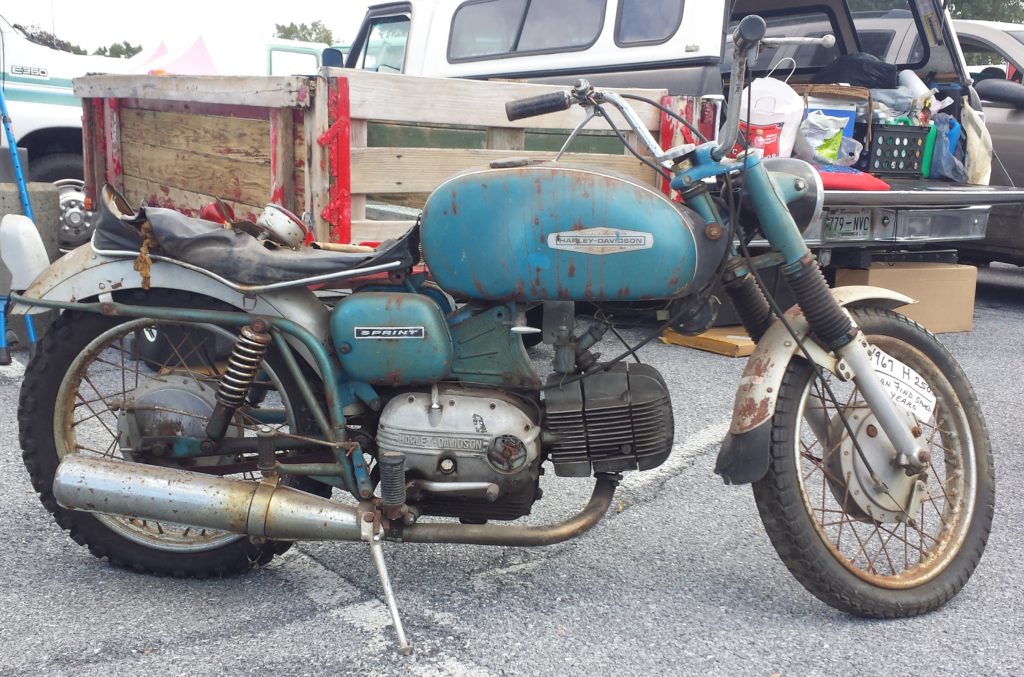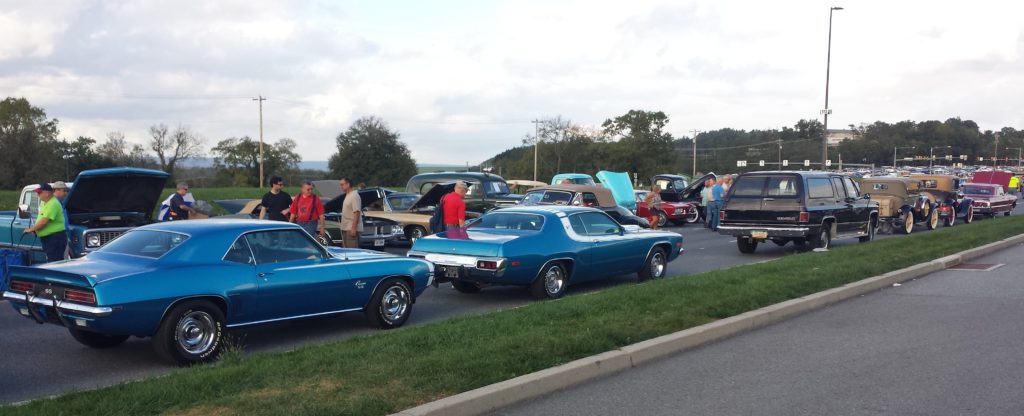 The "Car Corral" fills the access road around the Giant Center parking lot. For a fee, sellers place their vehicles here. Short of the actual car competition (on Saturday), this is the place to look at vintage cars. When one considers the price of a new car, it's astounding how reasonably a vintage machine can be obtained for. For the price of a used minivan, any number of perfectly restored or low-miles/original vintage automobiles can be driven off the lot. Though these may not be the most rare or collectable models, a $12,000 plebian—but virtually as-new—Plymouth, Rambler, Chevy or Ford automobile can be obtained and put into everyday service.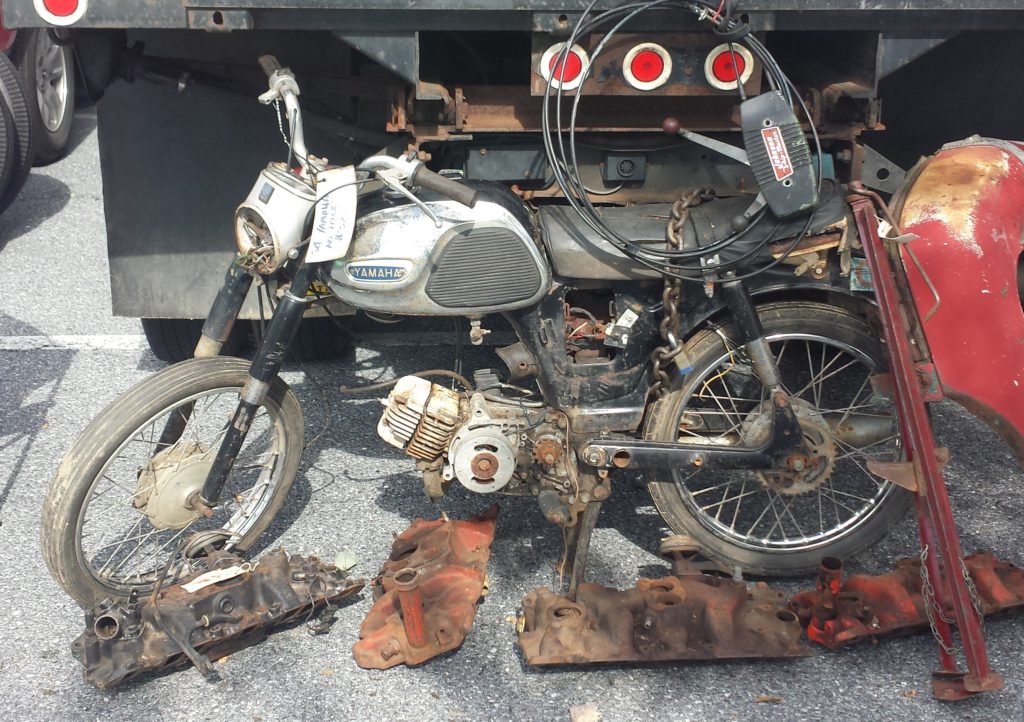 We'll leave you with this glimpse of the Hershey Fall Meet. If you have the faintest interest in cars, twentieth century American history, or mechanical things, and are able to make the trip to Hershey and spend a sunny day or two here, we'll be surprised if you don't thoroughly love it! Hope to see you, next year! Till next time, Dave