Another adventure in old motorcycle dreams and possibilities, torrential storms, attempting to have no part of the porta-potty touch your body…and fun
Another annual Vintage Motorcycle Days (VMD) has come and gone. This past 7, 8, 9 July weekend saw the usual pilgrimage of motorcycle enthusiasts to the Mid-Ohio race course, near Lexington, Ohio. All in all, the weather was good (with one exception) and the field was packed. The AMA and Mid-Ohio again did a fine job in organizing and pulling off the weekend. Your dedicated respondents Dave and Chris Russell, along with fellow traveler Brian "B.T." Thompson, tell the story:
Everything was actually…pretty much the same as it always is! Getting through the gates was relatively painless, and vendors were able to drive directly to their spots. Thursday evening's complimentary meal at the Honda Tent for the vendors was slightly more meager, and the staff tended to run out of items this year, but, hey—it's free! By the way, we noticed "Cooper Tire" signs…well, everywhere, this year. Not sure what this means, but we'll endeavor to find out. (A new corporate partner?)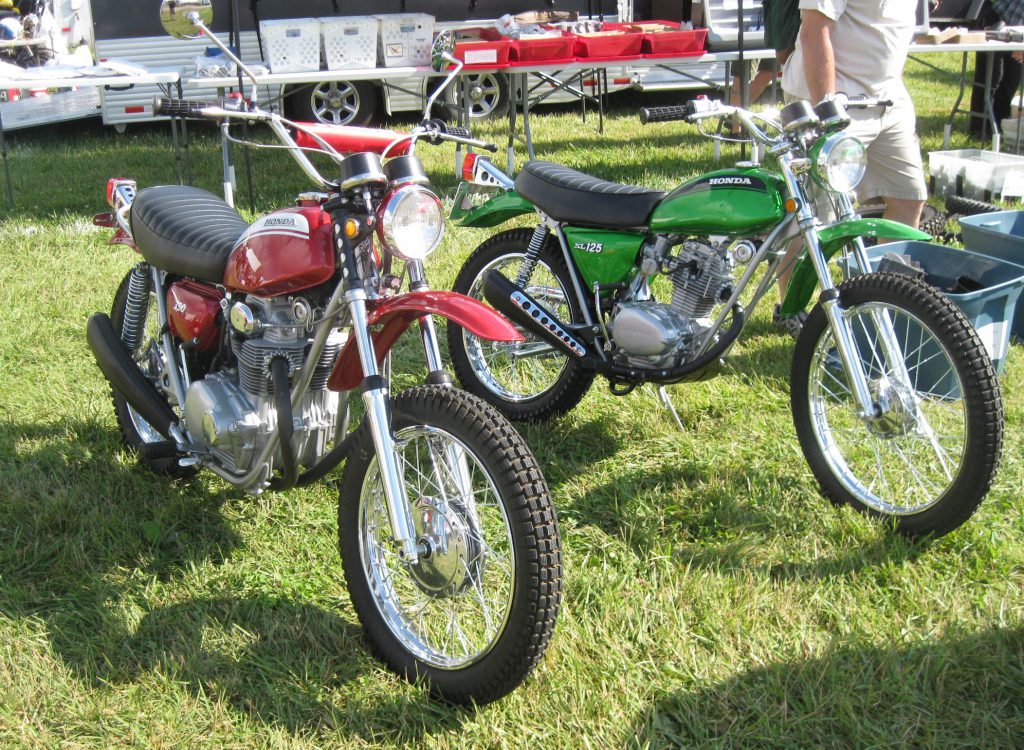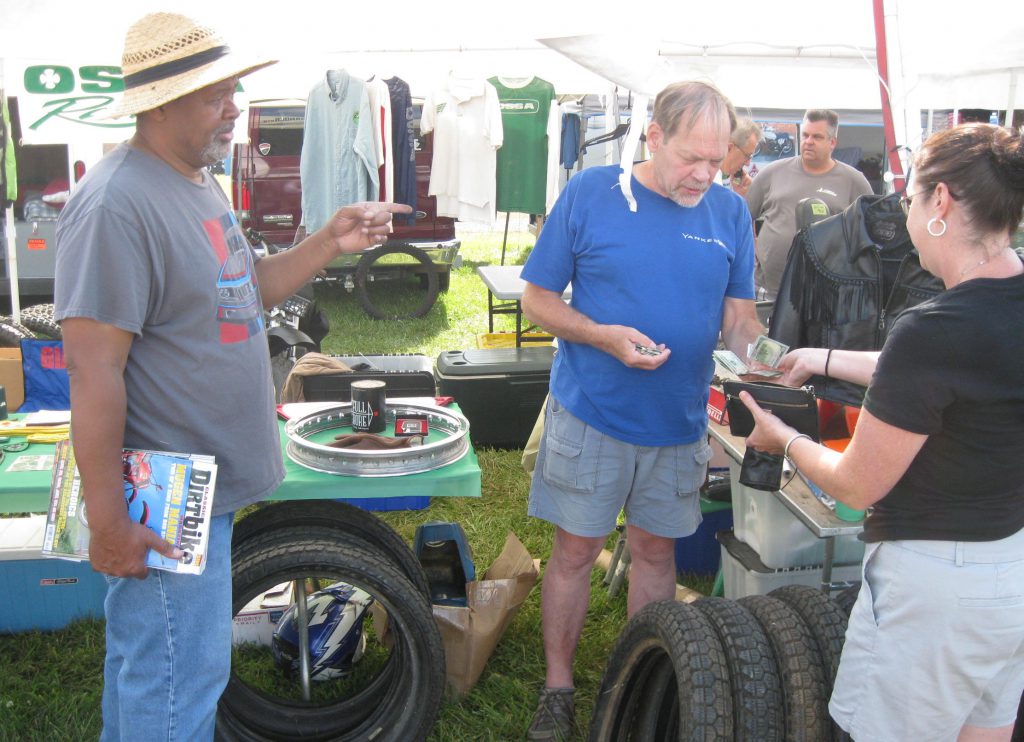 For those new to VMD, the first thing to know is that it's the largest vintage motorcycle event in North America. VMD was begun at the old AMA headquarters in the very early 1990s, and soon moved, under the direction of the much-loved swapmeet promoter (and then-AMA employee) Will Stoner, to the Mid-Ohio Sportscar Facility. The Mid-Ohio facility can be divided into three areas, which in turn house three different sets of activities. Chris, BT and I tend to focus our attention on the "swapmeet" area, a roughly double-football-field sized hillside where folks bring their old bikes and parts to sell—and the rest of us go to find treasures. Then, there's the "infield" area, inside the large Mid-Ohio road-race course, and encompassing the paddock, tower, and eastern camping areas. Here's where seminars are held, the bands play, other food & items are sold by professional vendors, and where the administrative types locate themselves. Finally, there's the "motocross/camping" area. This area, to the west of the facility, holds the off-road race courses, and the majority of the camping spots. (Recently, the motocross/camping area residents appear to be collectively trying to replicate the crazier side of Unadilla, NY in the 1970s. That is, complete with fireworks, excess partying, all-night noise and pit-racing and 'burnout competition,' ambulance calls, and whatever else. Folks from the other areas have taken to riding down in the evenings to witness the circus show. Not to be too old or anything, but somebody may need to address this, at some point.)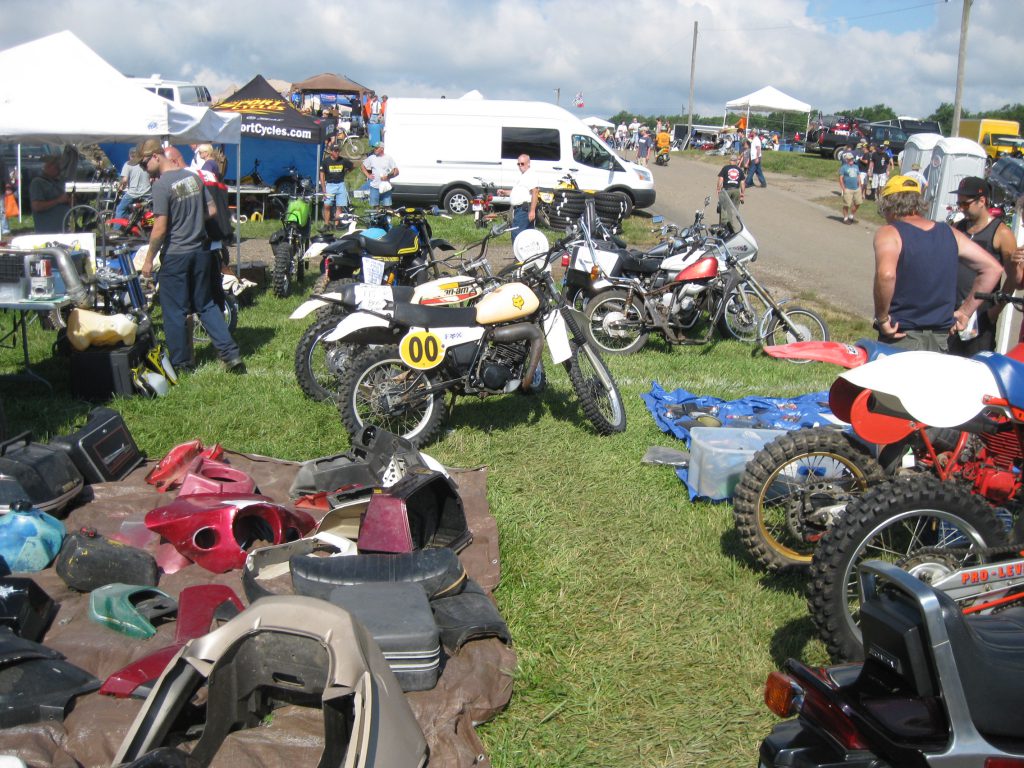 For the collectors, the swapmeet this year tended to be a little-of-everything collection: European and Japanese, dirt and street. We noticed minimal Euro-exotics this year—Maicos, CZs, Bultacos, Montesas and the like—but there were certainly a few. Dan Payne's restored circa-1969 125 Maico (that he "found sitting in a field" after last VMD) was a joy to behold—and will be joining the Mungenast Museum, we're told, along with the spectacular 501 he brought, last year. We noted many beautiful early-1970s Japanese endures for sale or being used as pit bikes. Being a Kawasaki devotee, I personally saw a handful of 350 Bighorns for sale at well below $1000. We enjoyed seeing a range of AJS Stormers in attendance, as well, ranging from updated pristine riders to projects. All in all, there was—like always—just about anything you could possibly want, for sale.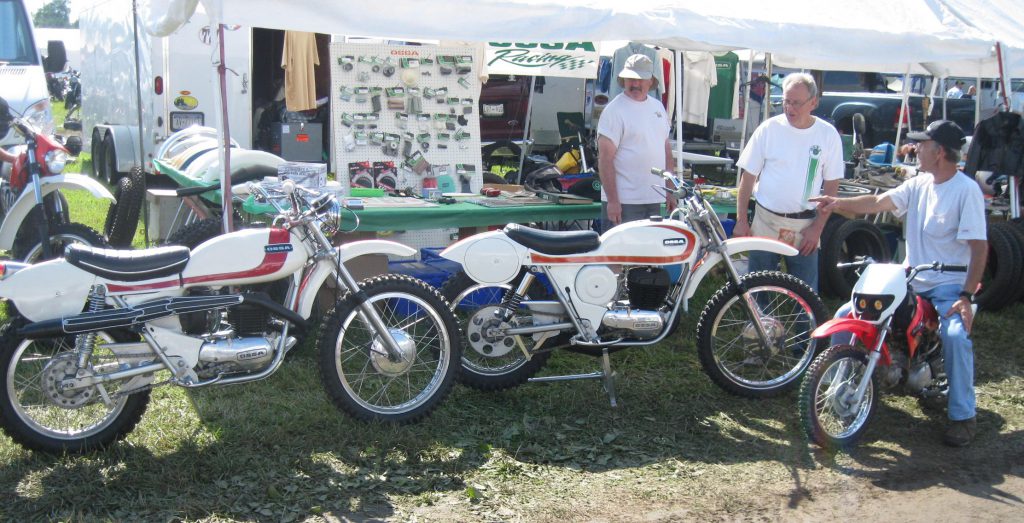 Younger people were very much present. I still wonder how a 17-year-old excitedly carrying parts for an early-seventies Suzuki TM-400 came to develop such an interest (it must be a good story). It's good to see, however it occurs. Especially pleasing were the numerous parent-child participants roaming the grounds. As opposed to the "graying" of membership, happening in some other vintage motoring organizations—most visibly, the Antique Motorcycle Club of America—the crowd at VMD seems to exhibit a reasonably healthy mix of young and old. This mixture will be an important component for a healthy community in the vintage motorcycle hobby, in the years ahead.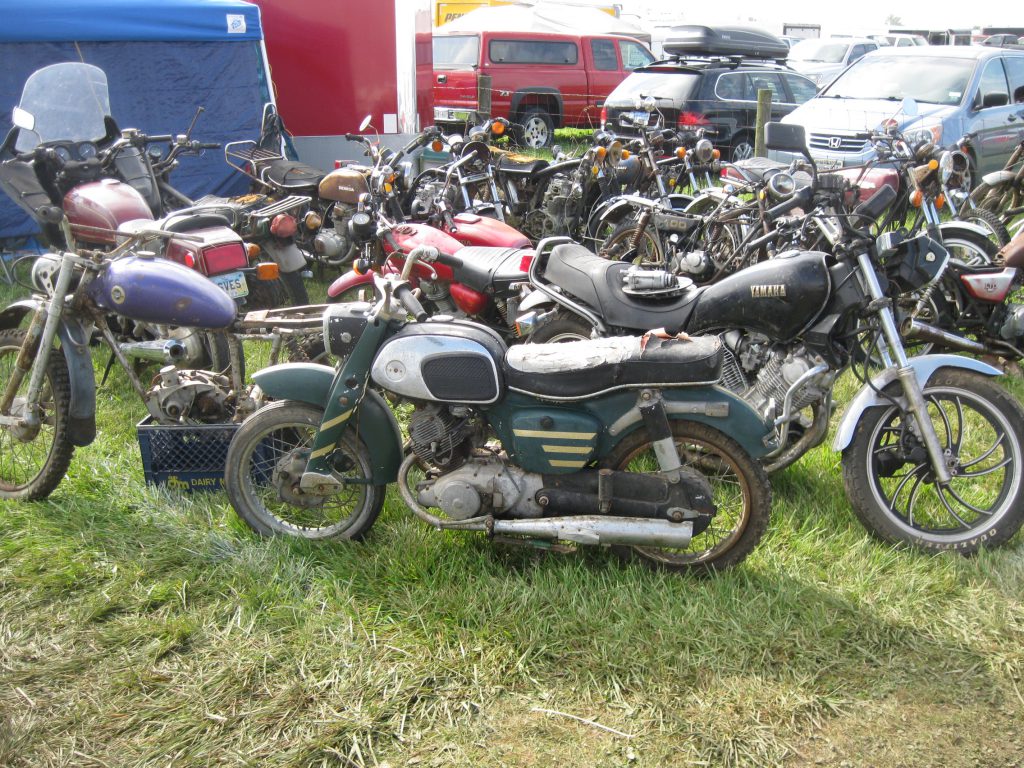 Those attending on Friday, and especially those inhabiting tents, will not soon forget the storm frontal passage at mid-morning. While we knew some sort of weather nastiness was approaching (thank goodness for smartphones…sometimes), the extremely-strong pre-frontal wind arrived suddenly without any warning from the VMD/Mid-Ohio staff (at least nothing that we heard). Figures of 60mph winds were quoted, afterwards. Many tents were destroyed, and we heard of some vendors being injured by wind-blown tents. Our own tent survived—though needing extensive repairs—by means of the two of us holding onto the tent frame, as it threatened to lift up and depart for the next cornfield, for about 15 minutes of very interesting weather. We encourage the VMD/Mid-Ohio management to be sure to do their usual good job of identifying and announcing storm fronts, in the future.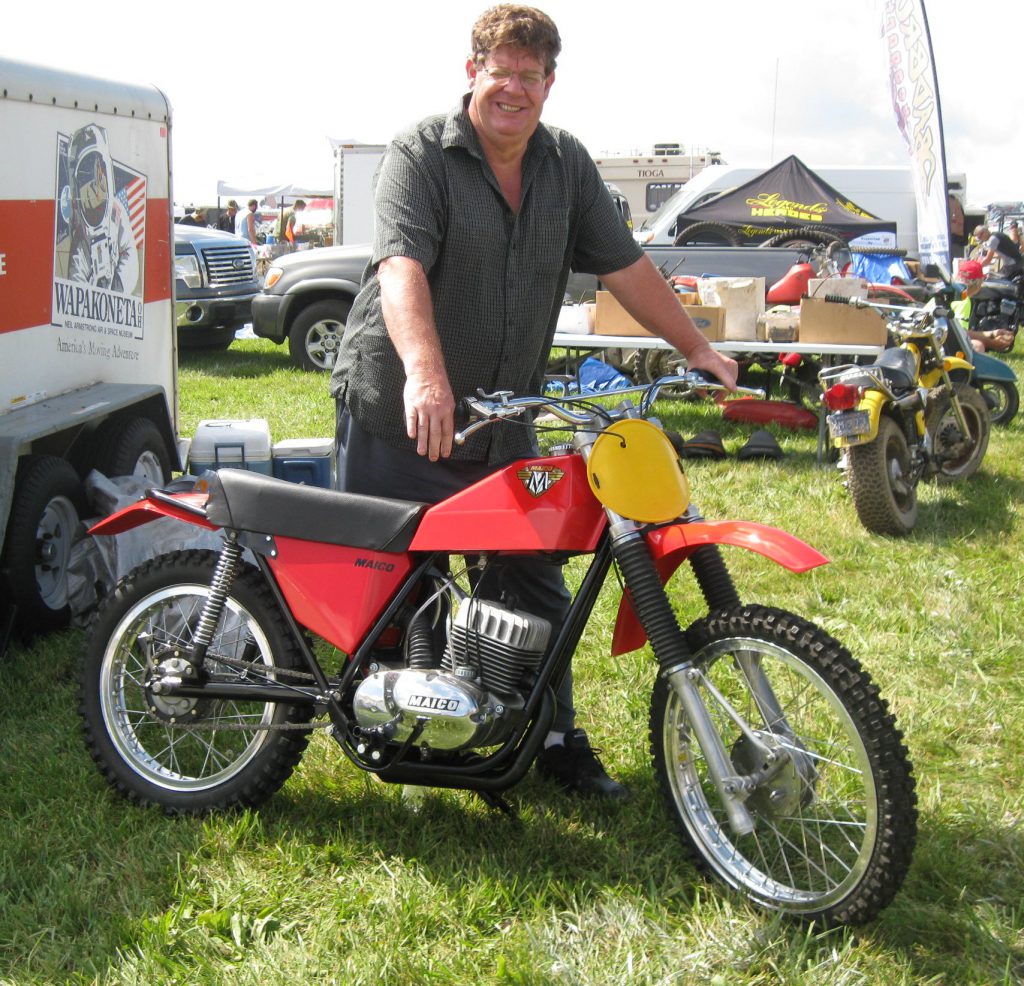 And so…another year of travel and treasure and avoiding touching blue plastic has passed. We know those who attended enjoyed themselves. If you have not yet experienced VMD, please consider it in a coming year. (For the schedule you can always check the all-knowing internet. For information on obtaining a vendor slot, contact Beth Own at the AMA at 614-856-1900 ext.1212.)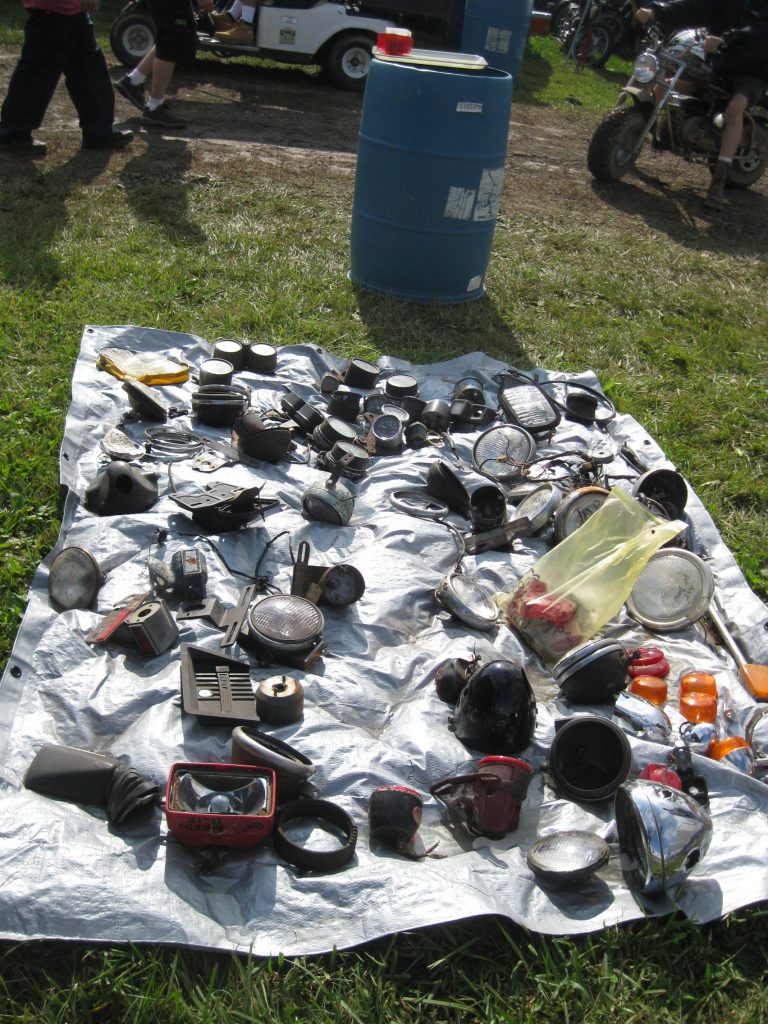 If you attended, we hope you enjoyed the event. Perhaps you brought home some old part that takes you back to experiences you had, or wished you'd had, long ago. Work on it…and bring it along and show us, next year!
See you in 2018.