Validation
The key reason owners/restorers bring old motorcycles (or old cars) to events, to compete for awards, or seek to display them, is essentially validation. By this we mean that the restorer wants to have someone say, in effect, "You did a good job restoring that," or "That's a nice motorcycle." This is not to deny that many owners want to altruistically share their motorcycles or cars with others, for their benefit and pleasure. My feeling, however, is that most of the impetus causing an individual to display a motorcycle or enter a judged show, if not to gain special recognition, is to at a minimum have his or her work validated (and judged acceptable) by other knowledgeable collectors and the public. The restorer, collector, and owner all seek the approval of their peers. For the restorer, however—who has placed his or her craftsmanship and aesthetic choices in the most exposed and vulnerable position—this tangible approval by peers is even more critical.
Appreciation
Consider this hypothetical scenario: Would the "last man on earth" restore a motorcycle or a car—or even paint a picture or build anything of beauty? Likely not. And the reason this last man would not go to such efforts is that there would be no-one to appreciate the work but him—no other soul to validate his efforts and lend them worth.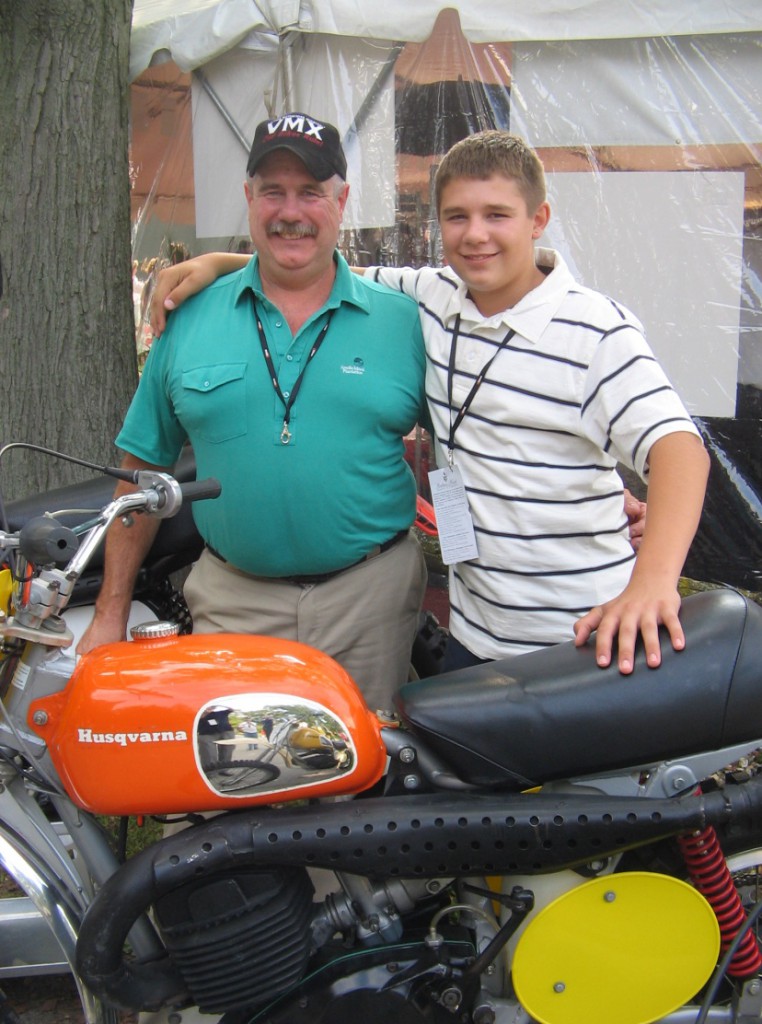 Lenders/exhibitors receive this validation in various ways. For example:
Lending to a museum show: Here, validation occurs in having had your machine selected as worthy to represent the brand (or the era, type of machine, etc.), and deemed acceptable for educating and entertaining the public;
Competing in a sanctioned AACA (Antique Automobile Club of America) or AMCA (Antique Motorcycle Club of America) show: In this case, validation is knowing that several experts have spent time considering the owner's machine, have carefully evaluated it, and have provided written results. Also (if one know the rules and did their homework), the entrant is almost always going to achieve some level of recognition (Second junior award, First senior award, etc.), including a tasteful trophy or medallion and the peer acceptance that accompanies the effort.
Participating in a less-formal local, non-sanctioned show: Validation in the case of smaller, local events can be more elusive, though it doesn't have to be. Lacking the aura of the museum and (nearly always, at least) the objective judging system and gravitas of the AACA/AMCA events, the organizer is challenged to find a way to cause owners to give up (at least) a Saturday, and transport their machines in the organizer's event. The restorer/exhibitor still wants some sort of affirmation that their time—both working on the machine and traveling to the event—is appreciated and has value (as Ossa motorcycle enthusiast David Richardson and I laughingly imagine, restorers wish to "wheelie our old bikes by the cheering crowd, into the sunset."). Here, validation may be gained through various avenues, but these are not a constant, and can sometimes be given insufficient attention by event promoters. The question for the promoters of these (often small, local events) becomes What can be provided to the show's exhibitors to ensure this validation, and cause them to bring out their vehicles?
Successfully meeting the needs of the exhibitor at such an event might be as simple as the organizer/promoter saying to the potential exhibitor, "Hey—you have very nice bikes; would you consider bringing some to our next show?" That's validation. It could be the sponsoring Rotary Club president shaking the owner's hand, a nice "glamour" photo of the motorcycle or an award provided free-of-charge, being mentioned on the intercom . . . anything that affirms and justifies the owner's efforts and makes transporting a motorcycle several hours, giving up their personal time—and usually paying to do so—worth it.
When show promoters figure this out, they will have full exhibition areas.