Our good friend Pete Noneman—who you may know from his work supporting the Legends and Heroes program—was recently fortunate to avoid the northern cold for a bit and be in Daytona, Florida. Pete attended the 4th annual Daytona vintage motocross, run inside the famous stadium. Besides the usual mixture of interesting motorcycles, Pete is one of the few of us to own one of the rarest of all MX bikes: a Harley-Davidson MX250.
On hand at Daytona with Pete was fellow enthusiast Keith Geisner, who wrote his history of finding another famous Harley motocross bike in Finding #49 (the very motorcycle raced by factory rider Don "Killer" Kudalski in 1978, winning the Florida series that year). Keith has restored #49 to running condition, and brought the iconic machine for display at the 2022 Daytona event; two other MX250 owners rode their production bikes in the vintage race. Bill Davidson, great-grandson of one of Harley's founders, was on-hand as well to appreciate the gathering of some very elite American motorcycles.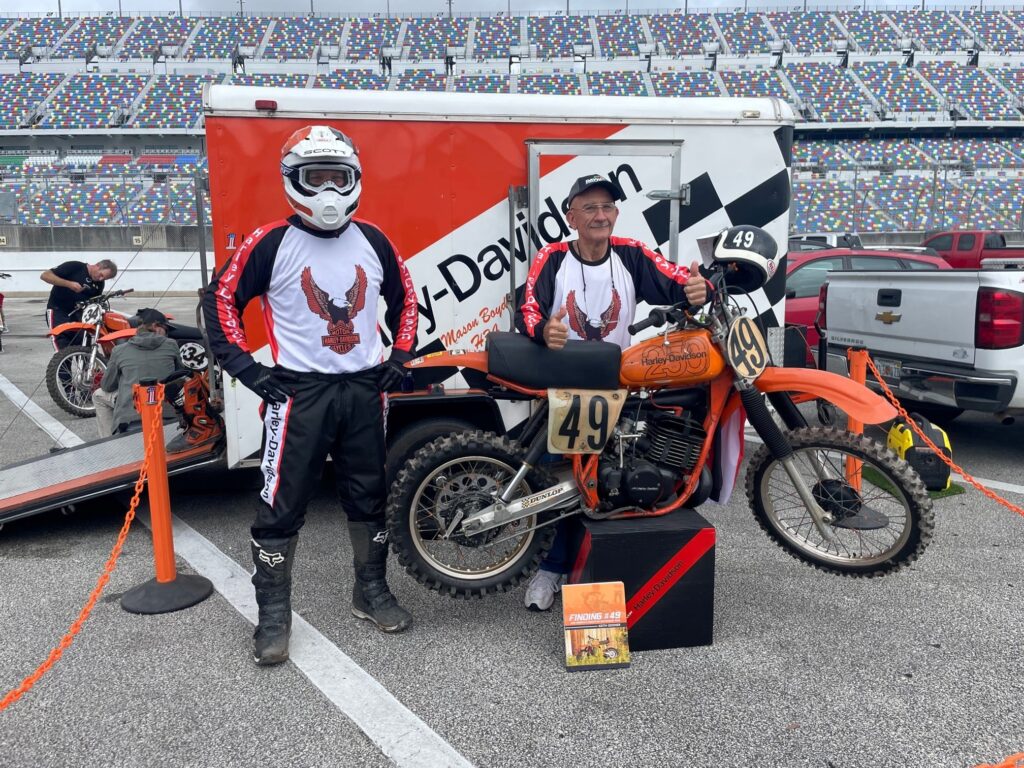 Keith Geisner (left) with the factory #49 and its original rider, Don "Killer" Kudalski, at Daytona. (Photo: Pete Noneman)
…and Pete's perfectly restored MX250 (Photo: Pete Noneman)
 For those who haven't read Finding #49, it's a story of the mythical garage-find-adventure we all long for. It's also a narrative of a man's enormous dedication: the diary of completing a quest to restore a notable piece of American motor history to its appropriate place. This resurrection of a notable motocross bikes, from a dusty farm in Shelbina, Missouri, to now national prominence, was also a labor of love for Geisner. You'll certainly understand that, reading his tail.
Kudalski gets the holeshot! Don Kudalski at Daytona, circa 1975, on his factory Honda. (Image: Popular Cycling)
The MX250 was only produced and sold in one model year—1978—by Harley. Interest by Harley-Davidson in motocross seemed to have jelled a bit late, with early experimentation beginning about 1975—about the endpoint of the early-seventies "motorcycle boom" and just on the reverse slope of the frenetic earlier years of off-road development. The first factory machines, with engines by Aermacchi and using telescopic (front) forks for the rear suspension, were not quite conventional and were still maturing when the 1978 version was made available to the public. While the bikes still had some bugs, "The Motor Company" was no stranger to racing, and their move into professional motocross, though different from their normal venues, was not unsuccessful. Raced by "Rocket" Rex Staten, Marty Tripes and Kudalski, the machines did win and make headlines. Unfortunately, Harleys corporate leadership decided to turn away from marketing small two-strokes in the late 1970s. They sold the Italian Aermacchi factory and turned away from motocross that same year the MX250 arrived. Thus, the bikes never received the development needed to make them—at least the production models—into winners. With that, the Company moved back to concentrating on dirt track racing and the big street bikes they knew best.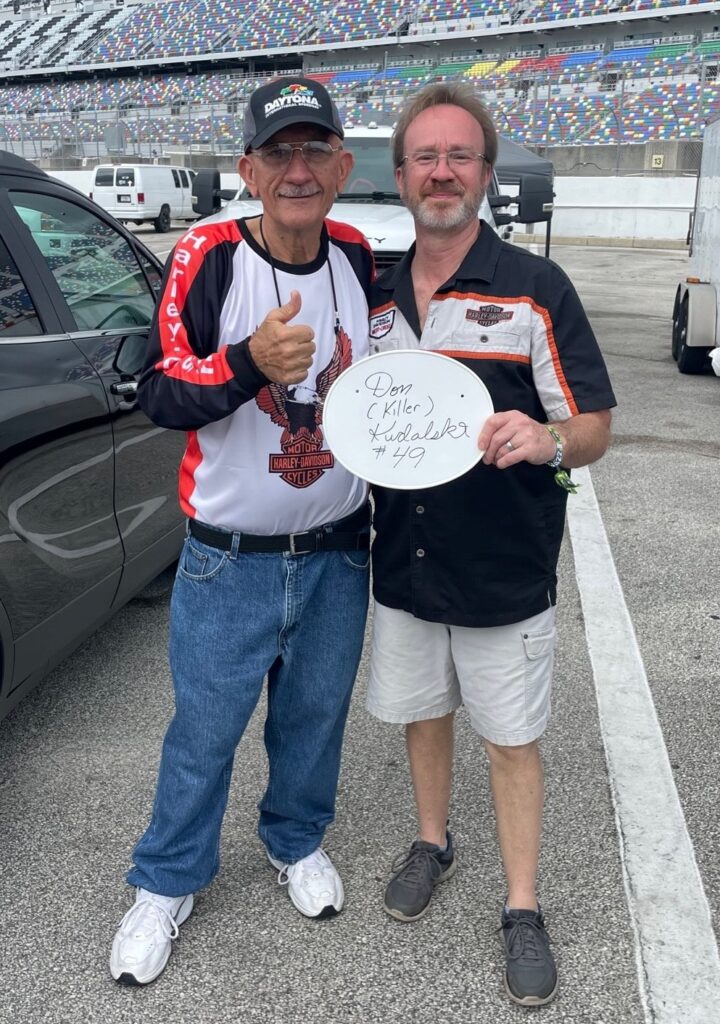 He doesn't look so nasty! Don "Killer" Kudalski and Pete Noneman (Photo: Pete Noneman)
1978 and the MX250 remain, nonetheless, a fascinating era in both motocross and Motor Company history, and several fortunate vintage riders and collectors throughout the world relish their Harley motocrossers. Prices for these machines and parts are some of the highest in the vintage dirt bike universe. If you happen to see one of these orange machines in a barn near you—don't let it go!
He doesn't look so nasty! Don "Killer" Kudalski and Pete Noneman (Photo: Pete Noneman)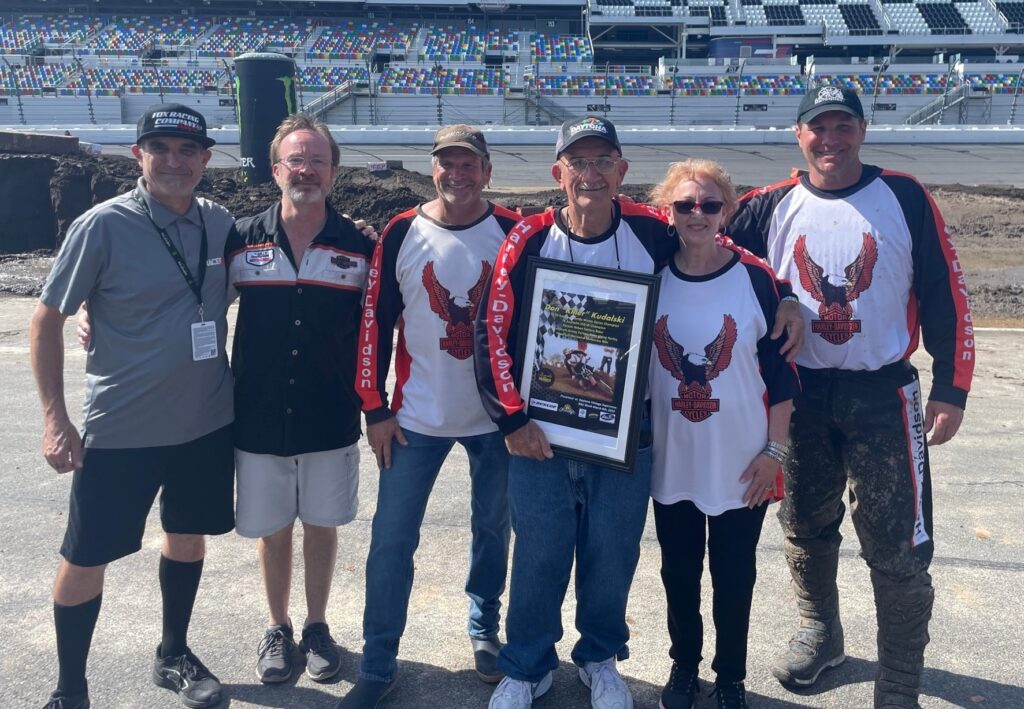 No visible tattoos or leather vests? Not your typical Harley biker gang (left to right): Matt Watson (RacerX Illustrated), Pete, Mason Boyd (vintage MX250 racer), Don & Denise Kudalski, Keith Geisner (Photo: Lou Gerencer)
Pete Noneman is not only an avid off-road rider and vintage motorcycle collector, but also helps keep our history 'living' by his extensive volunteer work with the Legends & Heroes of Motocross Tour, bringing pro-level historical resources to races and events across the northeast. Pete is also a longtime faithful contributor of his personal collection to the AACA Museum and motorcycle shows.