Saturday, June 11th was the second running of the new "Motorbike Day" at the Antique Automobile Club of America (AACA) Museum in Hershey, PA.  The museum has, in the past decade, become much more of a recognized location for vintage motorcyclists, and has been featuring excellent motorbike exhibits, beginning with 2009's joint AMCA/AACA Fast from the Past display. Hosting a swap meet/bike show on the museum grounds is one more opportunity for motor enthusiasts in the southcentral PA area to thank their lucky stars for their good fortune in being so near, so many vintage motor activities!
This year, the forecast drizzly weather appeared to discourage vendor turn-out. AACA museum organizer Rob Kain noted that he'd hoped to double last year's turnout, but—whether it was the weather, the high cost of gas, or happenstance—vending was light. Conversely, bike show entrants did in fact double over 2021's numbers, with more than 30 machines displayed. Following are my personal highlights.
I admit that I'm a Moto Morini fan, having enjoyed a 500 Sport, long ago. This faired 500 Strada (circa 1980) couldn't help but capture attention; the aqua color is rarely seen, and the pin-striping and overall aesthetics just make you smile!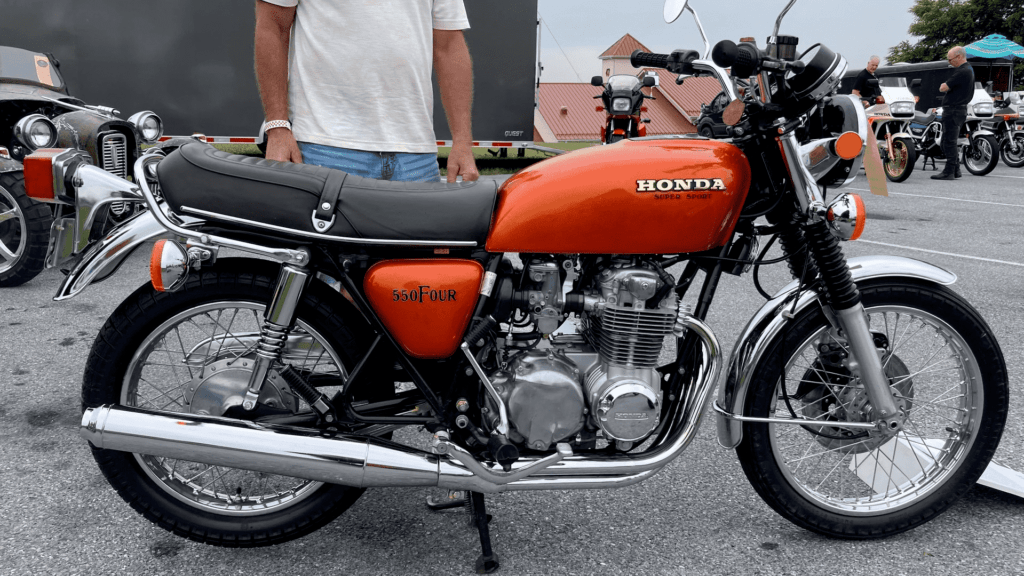 This Honda 500 Four Super Sport first came to our attention a few years back, and previously graced the museum's Survivors exhibit. The present owner bought it from the original purchaser, locally. He keeps it in a sealed, heated and carefully-monitored closed container each winter. It may be the most well-preserved original motorbike I've ever encountered. Even the rare 3.75 Bridgestone rear tire is soft and seemingly made yesterday.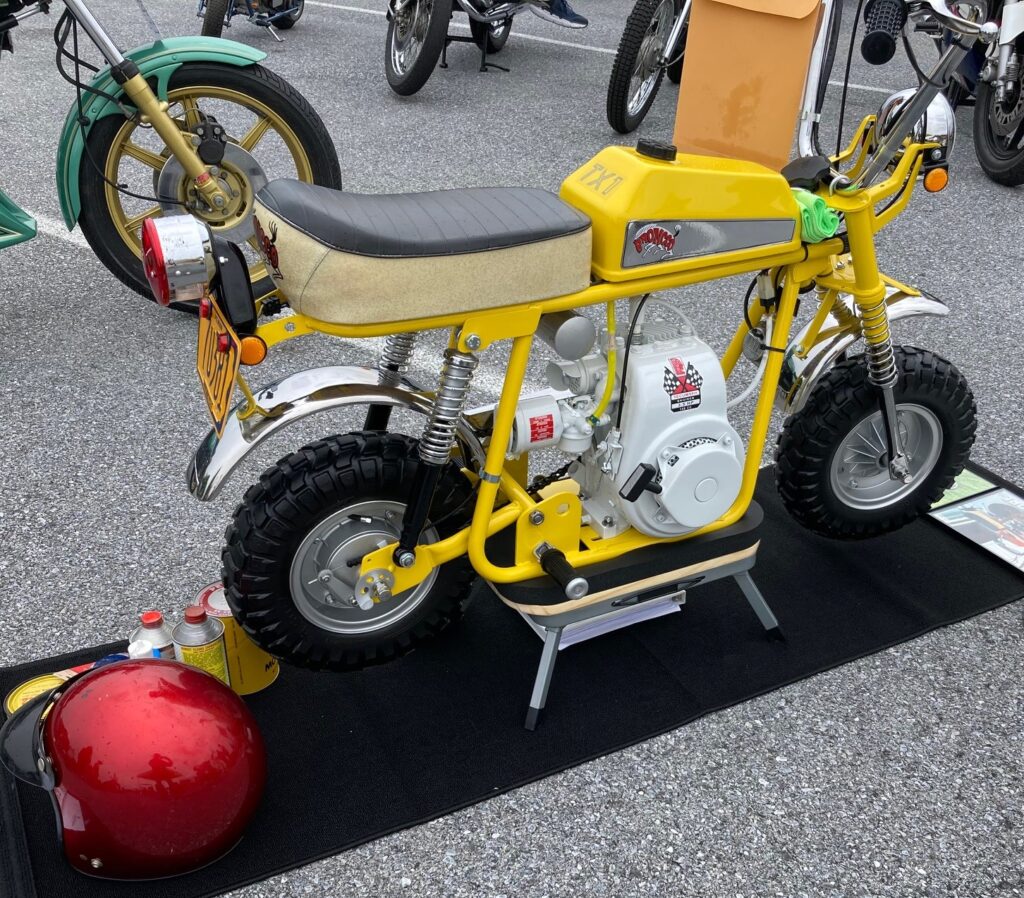 Two minibikes were entered in the show, both fastidiously restored. This Tecumseh-engined Bronco sat within a very carefully curated presentation, with period helmet, literature, and even cleaning materials. It also brought to mind one of those "restorer's dilemmas," in that the owner chose to retain the original and nearly-perfect seat cover. The cover features unique plastics (including a likely un-obtanium metal-flake-impregnated white side material) that would be no doubt extremely hard to source. The seat nonetheless had a small stain that met the eye. I'm not criticizing; most of us have probably been in this owner/curator's position. His choice reminded of that occasional but very difficult decision, on whether to replace/restore, or to go with a very-nice (but substandard to the rest of the restoration) original part.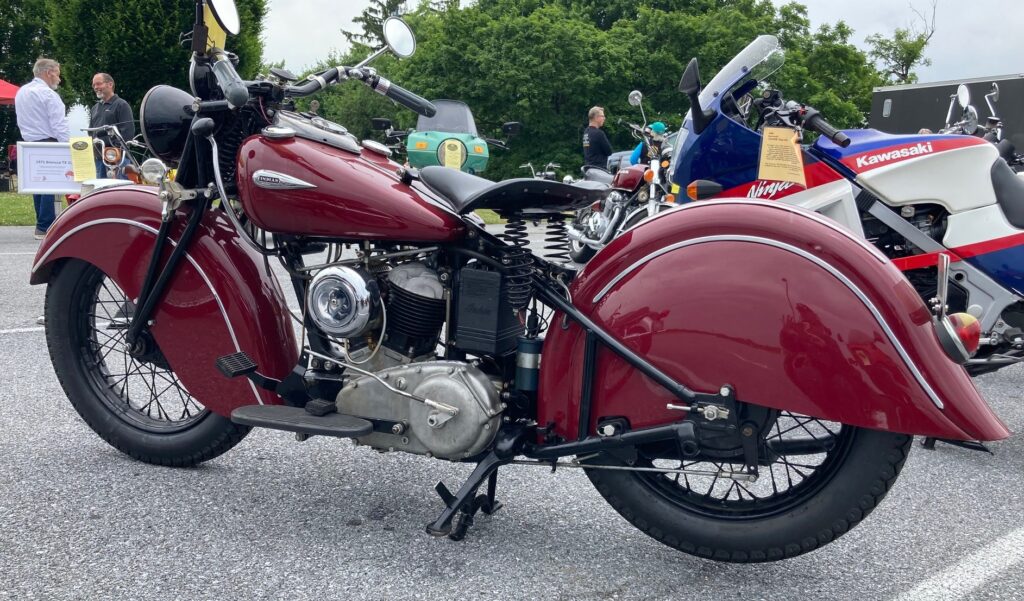 This Indian Scout reminded me of just how many old motorcycles rest, out-of-sight, in almost any geographical area. Years ago, as I was assembling the Indian Nation exhibit for the museum, I recall mumbling to an Indian collector that I was concerned about finding enough display pieces. "Don't worry," he said. "You'll be surprised. They're everywhere."
This owner has a very specific interest: he wanted one superb example of each factory turbocharged motorcycle of the late 1970s. And he's found them (with two slightly-differing Honda examples)! The gentleman asked not to be considered for awards; he simply wanted to make the machines available for viewing by those who might appreciate them.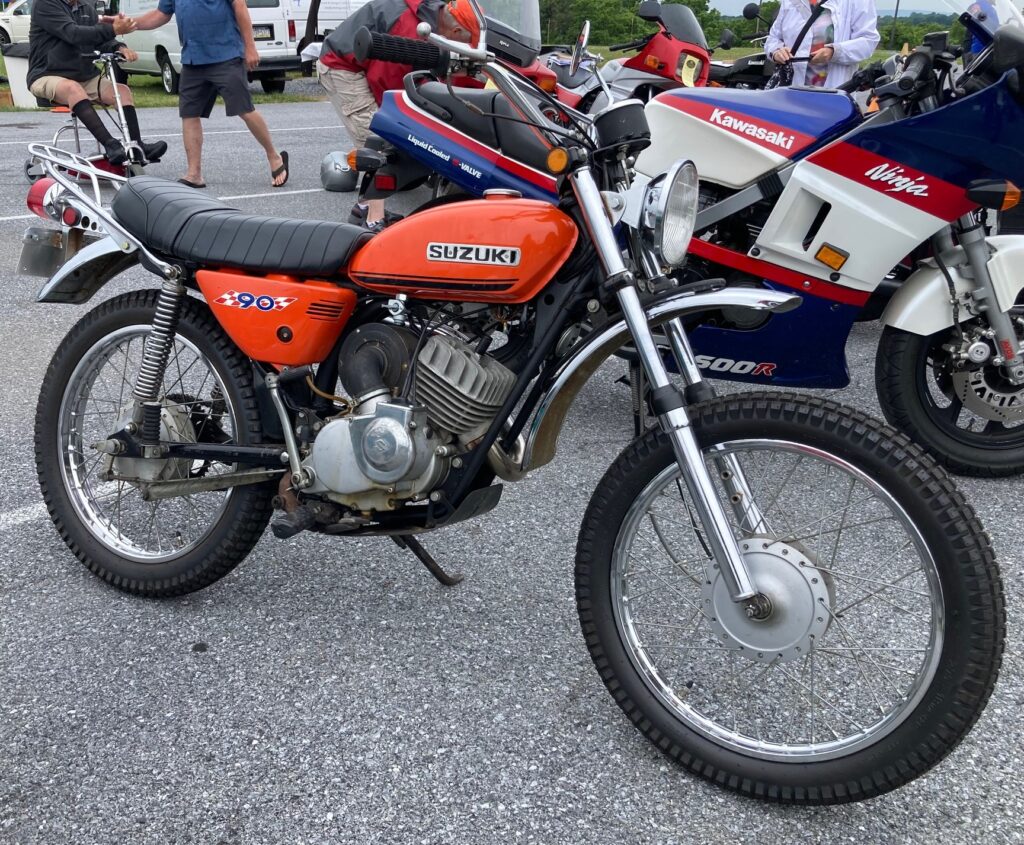 Surely no motorcycle has been better designed for F-U-N than this 1971 Suzuki TC90! Produced for several years on either side of 1970, these rotary-valve little zonkers resemble the ubiquitous Kawasaki G4s of the same period (though not as plentiful). The Suzuki is a thin-boned lightweight, just on the lower scale of what might constitute a "real motorcycle," but is ready to zip around town or attack the dirt piles.
This 1950 BMW R250 was carefully restored by its owner, who occasionally drives it around the byways of St. Mary's, PA. Speaking of "just on the edge of what constitutes a real motorcycle," this machines may in fact produce even less horsepower than our little TC90 (though the heftier flywheel undoubtedly makes for a torquier ride). And be careful when filling your battery; several drops of battery acid fell on the transmission housing, discoloring the surface coating—one of those nuisance issues for which there's no really easy answer to remedy.
Not entered for judging, but for sale in the vendor field: a circa-1965 Sears Allstate MS50 moped. This bike uses the 50cc version of the shrouded Puch two-stroke engine also employed on the 1960-63 Sport 60 model, an example of which I'm looking forward to restoring.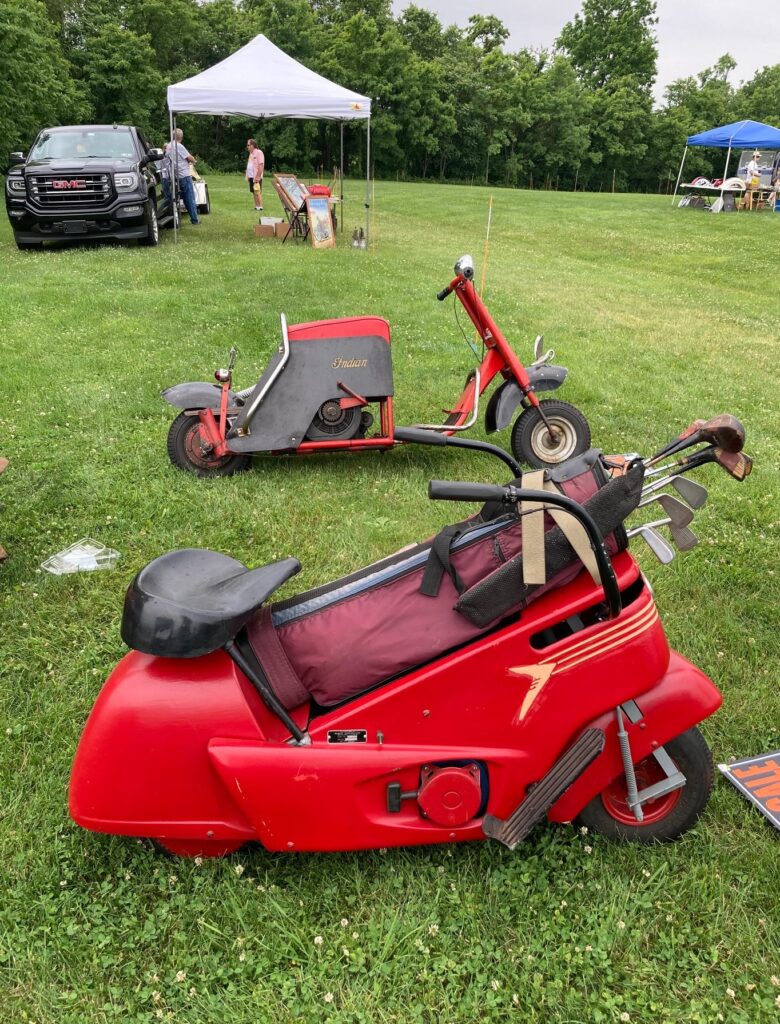 Both for sale, and waiting to fill your need for either a sexy around-the-neighborhood scooter, or distinctive golf bag carrier! In the background is a mostly intact Indian scooter.  Up front is a Bobcat golfcart scooter from the 1950s

As I mentioned, the AACA Museum's Motorbike Day is one more reason to be glad we live in this area. The beautiful, groomed location and convenience to amenities (food truck on-site; clean, cool bathrooms inside the museum, and half-price museum exhibit admission for all bike registrants and vendors) make this an event which will only improve in the coming years. Make it a point to attend, next year!