Oak Motocross Park swung open its gates/cow fence this past weekend for another great time in the country! Oak MX Park (Coalport, PA—west of State College, PA) is an enthusiast-owned (the Ecklund family) venue that retains what might have been the best of motocross. There's low fees, a good, varied dirt track, food trucks, and a goal to have fun. This Labor Day weekend, the track hosted a "come one, come all" event for both modern and vintage riders; or, perhaps better-stated as "anyone who wants to show up." (In 2021, Oak MX Park organized an event that was more of a vintage gathering; for whatever reasons, this year's event was more of a combination of anyone who wanted to come out and ride or spectate, on an otherwise usually-busy holiday weekend.)
Not being ones to visit many MX races, your Vintage Motor Co. staff are not necessarily up-to-date on what constitutes a good MX gathering . . . But, we can say this about Oak Park: It's affordable ($10 admission); it's relaxed (no tech inspection; practice is . . . uh, now, and the vintage race begins . . . about noon, if we're ready.); and the location is a beautiful hilltop in rural Pennsylvania. We vended ("Till all the world in every clime and place, is exposed to Vintage Motor Tees!") and generally enjoyed a day in the country. Here are some impressions!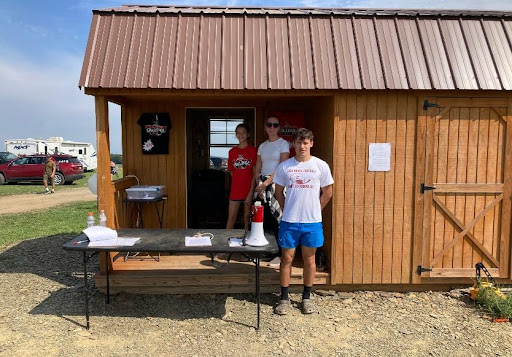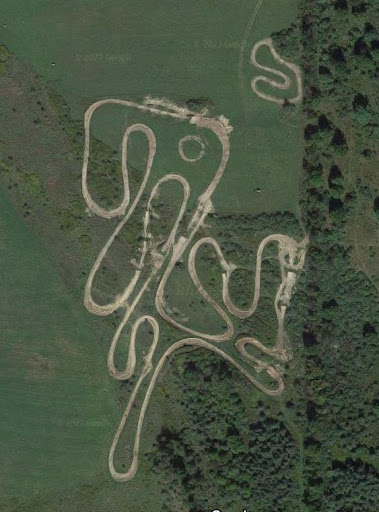 May we help you? Oak MX Park is well-maintained; run by regular, polite, non-weird folks (Weird folks . . . to paraphrase the US Supreme Court, you can't exactly describe them…but you know 'em when you see 'em!); and just a nice place to visit! The track is long and varied, and incorporates bypasses to avoid the bigger jumps (if you're on a vintage bike).
Owners were encouraged to bring along a vintage bike to display. Here are some; on the left, Maico builder extraordinaire Gig Hamilton casts admiring eyes on Dave Smeal's beautiful pair of first-year Yamahas ('68 DT250 and '69 AT125), then glances to see who may be watching, before boarding the 125 and attempting to race it.
Other display bikes: (left) VMC's '74 KX125 and modified '73 Wheelsmith/Maico MC440; (right) Bob Wrye's circa '71 Maico MC125.
Racer's meeting. Have fun, be nice, be safe.
The hilltop location is perfect—and lovely to gaze out from. Here's a long, loamy turn that looks inviting . . .
. . . and here's the view in another direction. The house appears to be one of the new mobile home-type "tiny houses"—perfect for placing on vacation or hunting property.
The Wrye family (Bob, Sr. and Alex) brought a number of vintage display machines. Here's Alex with his '82 Honda Odyssey (left). Three- and four-wheelers were just starting to become big in the 1980s; the semi-voluntary agreement by manufacturers to cease importing three-wheelers further helped four-wheeler adoption. Note the chromed DG expansion chamber on Alex's (yes, two-stroke) Odyssey. (Right) Alex pushes the family's '77 Maico AW (Adolf Weil replica) 250. Note the rare stock down-pipe; most were quickly crushed on landings and replaced with the Wheelsmith (later Maico) up-pipe on later production '77 models. (Note: The AACA Museum in Hershey, PA, is hosting their exhibit of vintage three- and four-wheelers, "ATVs: Off-road Adventure" through October, 2022.)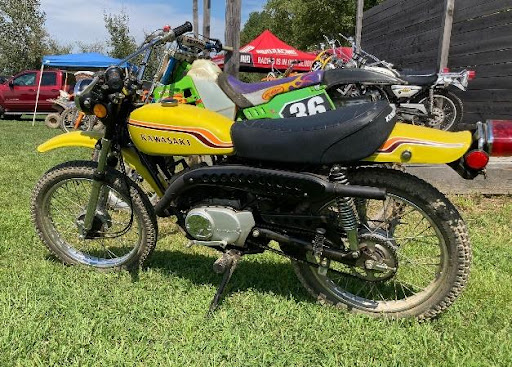 '72 Kawasaki G5 100. Though I've never done the research, I sometimes wonder if there were many more small Kawasakis sold than Yamahas (or Suzukis or Hondas). How many of us started off on the indestructible Kaw 100s? Furthermore, I wish I could replicate the power curve of a Kawasaki 100, for larger two-strokes—perfectly smooth and useful! So many Kaw 100s still exist that there were either a zillion of them sold, or they were very good . . . or both!
The vintage class gets ready for the start . . . 
. . . and they're off! Dave Smeal is neck-and-neck with John Ecklund, into the first corner (both on Maicos)!
#37 Amber Hamiltion—granddaughter of Gig—rounds the sweeper on her '74 MC250 Maico.
Ultimately, '78 Maico MC250 Magnum driver (and track owner) John Ecklund crossed the finish line, first. John may have been just a little more familiar with the track . . .  but everyone had fun!
Re-purposed woods bikes appeared for the MX: (left) an '88 KDX250. On the right is an '89 YZ250. When a new MX bike runs $10,000, running an older long-travel-suspended bike makes sound financial sense.
'75 Honda MT250 (left) and late-70s Suzuki PE250 on the right. 
Yet, modern bikes were present. I have no idea what the modern classes were; possibly "Everybody go ride, and whoever finishes first, wins!"
Old-timey greybeards Bob Wrye, Gig Hamilton, and Dave Smeal ponder our world and dispense wisdom to young folk. Dave's (ex-Gig Hamilton) '74 Maico MC440 stands in front. Seeing a ten-year-younger Dave Smeal race the 440 at Unadilla was one of my favorite vintage MX memories.
Amber Hamilton's #37 '74 Maico MC250, prepared by Grandpa. Note the modern alloy re-creation of the "small" Maico OEM fiberglass tank, by local metal craftsman/artist Brian Morroni. Brian had created alloy tanks for many of the classic Euro brands, and his work is utterly breathtaking. (Brian can be reached at buelle68@comcast.net, but be forewarned: it's a long waiting list!)
Till next time, from Oak MX Park in lovely Coalport, Pennsylvania, Jan and Dave Smeal and their dogs wish you safe and happy riding, and "Ya'll come back, next year!"