Do you want to get started enjoying the fun of old motorcycles?  One of the best ways to learn about the hobby is to attend a vintage motorcycle event.  These are often referred to as "swap meets" or "bike shows."  Let's get started!
Types of events: the Bike Show
One of the most common events at which to encounter old motorcycles is at a local "Old Care Show" (usually including vintage cars and motorcycles) and the less common "Vintage motorcycle show."  In either case, old motorcycles are exhibited in contention for prizes.  Local events may include charity car/motorcycle shows, and are usually put on by groups such as Rotary Clubs, schools, and causes, to raise money for that charity.  These one-day events occur on a local level throughout the United States, and—since the motorcycle's owner is generally situated near their vehicle, while it is on display—they are an excellent occasion to talk with vintage machine owners and ask questions.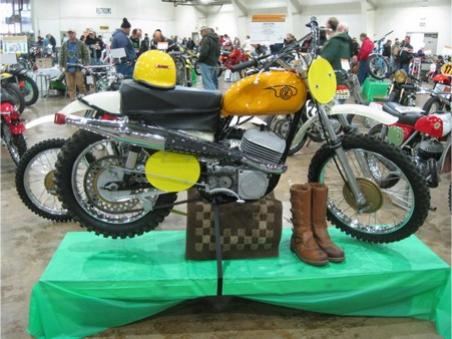 The Swap Meet
"Swap meets" are events at which motorcycles and parts are bought and sold, usually by non- or semi-professional fellow enthusiasts.  (The term "swap meet" points to a time when cash-strapped bikers traded or bartered for needed parts.) The events are often promoted by commercial entities, and vendors pay for "spots" at which to sell. Again, since the vendors are always motorcyclists themselves, swap meets can be an excellent place at which to meet other enthusiasts and contacts—as well as to purchase old bikes and parts
.Swap meets almost always also involve a motorcycle show as well, which serves as a means to attract and entertain visitors.
The Big League: national and regional meets, and other large events
The largest automobile and motorcycle events are usually referred to as "national" or "regional" meetings, referring to the fact that these events are orchestrated by the regional or national authorities of certain large organizations. Other event can be considered national, in that they are the only event of its kind held by the promoting organization. In any case, these events are usually the biggest and best attended! Examples of these types of meetings are:

These meets will include both swap meet vending sections and a bike show. They may also include extensive vintage racing (as in the cases of Vintage Motorcycle Days and the Barber Festival), technical seminars, manufacturer demo rides, and other happenings. What's even better is that these events span several days. Camping is usually a possibility as well.
How do I find out about these events?
Major organizations include event calendars on their websites. For more local shows, ask friends who are involved in old motorcycles and cars, and check your local papers. Magazines devoted to vintage motoring—such as Hemming's Motor News, VMX Magazine, Old Cars, Walneck's Cycle Trader, and the like—are also excellent sources. For starters, some useful websites for events around the United States are as follows. See you at the next meet!