As we've mentioned before within these sacred halls of our literary web forum, it is truly a privilege to be located here in the great northeastern part of the USA – especially if you are an active vintage bike aficionado.  The amount of swap meets, events, and in general motor shows gives us seasoned motor-heads plenty to do throughout the year, and the Potomac Vintage Riders swap meet is no exception.
This years York swap meet was once again another great vintage bike event. The York meet has become one of the largest indoor vintage bike events on the east coast. Whether you're looking to buy, sell, or just carouse the beautiful restorations, this event is a must! This year, as always, the people's choice showcase was outstanding; with too many honorable mentions to list. Yours truly, the Vintage Motor Company was in attendance showcasing our hand-printed bike shirts as well as a 1972 Puch 175 we entered into the showcase for viewing (we didn't win, maybe next year!)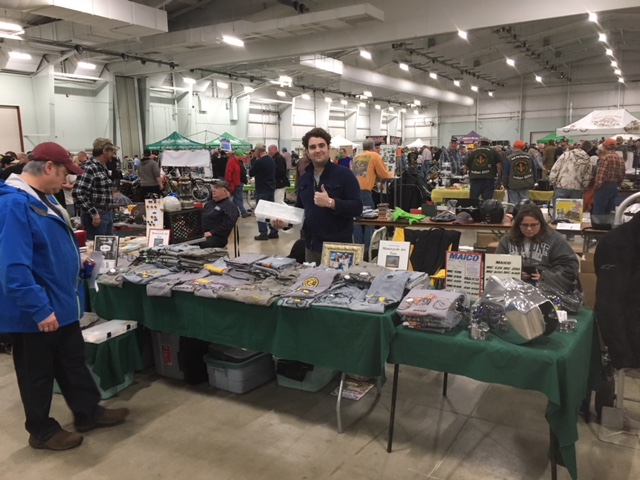 The York show has always attracted a more family-friendly atmosphere relative to other, more gritty bike events. Truth be told, you might see one or two guys drinking a beer; and that's about as far as you'll get in terms of pushing the envelope! The York show also seems to favor a healthy dose of vintage motocross enthusiasts. From the vendors to the bike showcase, any motocross geek will be sure to feel right at home at this event. For next year's event information as well as ticket purchases, you can view the Potomac Vintage Riders website here.
Anybody who's frequented AMA Vintage Motorcycle Days in Mid-Ohio every year is sure to find a few buddies and acquaintances here at the York swap meet… and it just so happens that the York swap meet is nearly the exact half-year mark away from Vintage Motorcycle Days; as if the vintage bike gods were reminding us to stay patient and keep out of trouble, because you're almost there. Is this purposeful or just random happenstance?  We're inclined to believe the former…
A few of the highlights this year included the Penton group which had a 50th anniversary event within the swap meet. In notable attendance, Rick "Super Hunky" Sieman as well as John and Jack Penton were present signing autographs and shaking hands. They are all a great bunch of gentlemen with amazing stories to tell! By the way…if you haven't read our piece on Rick Sieman and his development of Dirt Bike magazine, you can check it out HERE .
The main bike show, also called the "peoples choice", featured around 120 motorcycles on display, each of which are captured in the photo gallery below, courtesy of the team here at the Vintage Motor Company. Enjoy!
Click on any image to access larger gallery view.